ValueAct Said to Amass AmEx Stake as Activist Seeks Targets
Beth Jinks, Elizabeth Dexheimer and Ed Hammond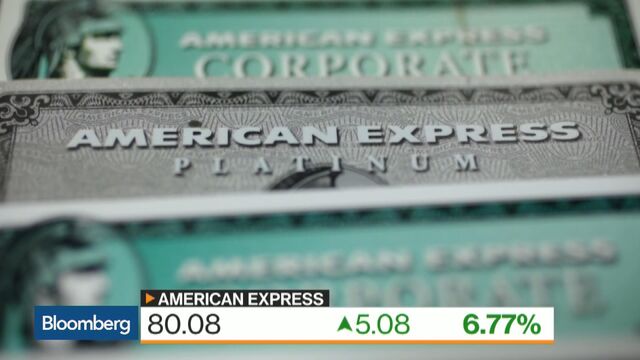 ValueAct Capital Management has amassed a stake in American Express Co., people with knowledge of the matter said, as the activist fund considers pursuing shareholder-friendly changes at the credit-card issuer.
ValueAct's investment is about $1 billion -- still less than 5 percent of American Express -- said the people, who asked not to be identified because the holding isn't yet public. American Express jumped 6.3 percent to $79.72 at 4 p.m. in New York, the most in four years, for a market value of about $80 billion.
The company isn't yet a core active target of ValueAct, one of the people said. ValueAct sees AmEx as a quality business with growth potential, the person said. Still, the fund could sell the position if it decides against a longer-term campaign for changes. ValueAct has held preliminary talks with the payments network.
Chief Executive Officer Ken Chenault is under pressure to demonstrate how AmEx, the biggest U.S. credit-card issuer by purchases, can recover from a series of setbacks this year including the end of its partnership with Costco Wholesale Corp. and the loss of a critical antitrust ruling that could put pressure on AmEx's ability to charge merchants higher fees.
Spending on the network is slowing and the company is falling short of its long-term revenue growth goals at the same time the stock had tumbled about 20 percent this year through Thursday, one of the worst performances in the Dow Jones Industrial Average.
'Perfect Opportunity'
"It's a perfect opportunity, American Express is ripe for an activist to take a sizable stake," said Stephen Biggar, an analyst at Argus Research, who recommends buying the shares. "The stock has taken a big hit."
The company is also being forced to reexamine its leadership succession plans following the unexpected death of President Ed Gilligan, who was widely seen by investors as a likely successor to Chenault. After Gilligan's death in May, AmEx has reshuffled some of its top managers and Chenault has taken on more direct reports. Chenault, 64, has been chairman and CEO since 2001 and AmEx's mandatory retirement age for directors is 72.
"ValueAct is a well-respected firm," said Marina Norville, a spokeswoman for AmEx. "We have been speaking with them, as we do with other investors, and look forward to continuing a constructive dialog. At American Express, we are focused on building long-term value for shareholders, and are always open to the views and perspectives of our investors."
ValueAct declined to comment.
Costco Fallout
The fund, which manages more than $18 billion, typically favors good companies with recurring revenues that it views as temporarily mispriced, and prefers influencing managers and directors behind the scenes.
As AmEx adjusts to the loss of Costco, which accounts for one in every 10 AmEx cards and 20 percent of total loans, the company has said earnings per share will be unchanged or down modestly this year and quarterly results will be uneven as marketing expenses rise. It's bolstering card rewards and seeking new retail partnerships and continues to invest in new technology as the market for digital payments accelerates. The company is also seeking to expand its international business.
Warren Buffett, whose Berkshire Hathaway Inc. is the largest investor in AmEx, has said that he remains happy with the company and Chenault's leadership. Charles Munger, vice chairman at Berkshire Hathaway, has said that AmEx's competitive advantage may be eroding and that maintaining its long period of achievement and prosperity is harder today.
Busy Quarter
ValueAct, led by Jeffrey Ubben, has had a busy quarter. The San Francisco-based fund disclosed last week a 5.4 percent stake in Rolls-Royce Holdings Plc as a new core activist holding. The London-based airplane-engine maker confirmed talks and said ValueAct had become its biggest investor, weeks after Rolls-Royce hired a new CEO. ValueAct sees substantial profit-growth potential led by aircraft-engine servicing, people familiar with those initial discussions said.
The activist also bought a stake in British engineering company Smiths Group Plc, other people with knowledge of the matter said recently. ValueAct has less than 5 percent of Smiths, which makes everything from airport-security scanners to surgical products, and that holding is also not yet a core activist investment.
Financial firms aren't common targets for activists largely because they face strict regulations that limit management's ability to control dividends and buybacks, according to Scott Valentin, an analyst with FBR Capital Markets. As part of its annual stress test process, the Federal Reserve must approve the capital plans for the biggest U.S. banks, including American Express.
ValueAct has influenced the direction of public companies as diverse as Microsoft Corp., Gardner Denver Inc., Valeant Pharmaceuticals International Inc., Reuters Group Plc, Adobe Systems Inc. and Sara Lee Corp.