Donald Trump Doubles Down in Combative First Republican Debate
The billionaire gets the first and last words of the night, and more airtime than any of the other Republicans on stage.
By and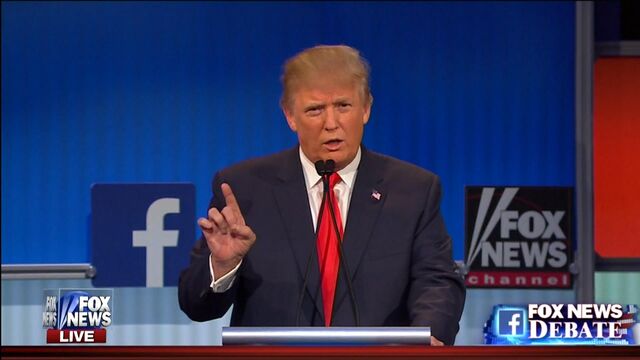 Donald Trump lived up to his billing at center stage of a spirited first Republican presidential debate, taking aim at America's "stupid leaders" and calling for a wall along the U.S.-Mexico border with a "big, beautiful door." The front-runner refused to pledge his support to the party's eventual nominee, suggested that he may run as an independent if he loses the primary, and dismissed criticisms from fellow contenders by saying—incorrectly—that most have taken his cash.
Asked by Fox News anchor Megyn Kelly, one of three moderators of the debate in Cleveland, about previous statements referring to women as fat pigs and disgusting animals, Trump shrugged. "Only Rosie O'Donnell," he said.
Also on Bloomberg Politics: The 5 Most Important Takeaways From the First Debate of 2016, by John Heilemann
Trump—who got the first and last words of the night, and more airtime than any of the other Republicans on stage—entered the debate lapping the other contenders in the polls, a surprise matched only by the shock of his unbridled style on the campaign trail. The bravado he showed again on stage Thursday probably would hurt almost any presidential candidate that has come before him. But his combative gusto may end up boosting his standing in a crowded field of Republicans, all vying for the nomination of a party bitterly divided between Tea Party conservatives and a pro-business establishment.
"I really had a good time," Trump told reporters after the event. 
Also on Bloomberg Politics: Fox News Couldn't Kill Trump's Momentum and May Have Only Made It Stronger, by Josh Green
If the debate, the first of nine sanctioned by the Republican National Committee, affects the race at all, there may be shifting underneath the front-runner.
Former Florida Governor Jeb Bush, who was polling second, was one of the few candidates willing to take on the frontrunner. "Mr. Trump's language is divisive," Bush said. "We're not going to win by doing what Barack Obama and Hillary Clinton do every day: dividing the country."
Still, Bush struggled to deliver clear answers early in the debate, and the main themes of his candidacy—campaigning with joy and expanding the party's appeal to non-traditional Republicans—were delivered more consistently throughout the night by Ohio Governor John Kasich.
"Because someone doesn't think the way I do, doesn't mean that I can't care about them or I can't love them," Kasich said, describing how he'd explain his opposition to same-sex marriage to a gay son or daughter. "God gives me unconditional love, and I'm going to give it to my family and my friends and the people around me."
Also on Bloomberg Politics: Who Won the Fox Debate? Depends on Who You Ask
U.S. Senator Marco Rubio, whose poll numbers have dropped during Trump's rise, stumbled once in an otherwise strong performance, saying he "never advocated" for exceptions to abortion rights for cases of rape and incest despite co-sponsoring anti-abortion bills that included both. "Marco has sponsored pro-life legislation with and without exceptions because they enhance protections for innocent life," said Rubio spokesman Alex Conant, touting his boss's strong record with anti-abortion groups.
Former Arkansas Governor Mike Huckabee hit his stride while taking aim at the nuclear deal the Obama administration helped negotiate with Iran. U.S. Senator Ted Cruz, known for his aggressive style, limited his attacks to the Republican leader of the Senate, Mitch McConnell
Wisconsin Governor Scott Walker defended his reversal to now oppose citizenship for undocumented immigrants, and appeared less comfortable on foreign policy. Retired neurosurgeon Ben Carson complained about not getting enough questions, then won applause for one of the funniest lines of the night.
"I'm the only one to separate Siamese twins, the only one to operate on babies while they were still in mother's womb, the only one to take out half of a brain" Carson said. "Although you would think, if you go to Washington, that someone had beat me to it."
Watch: All the Ways They Tried to Outshine Trump
U.S. Senator Rand Paul of Kentucky found himself in the middle of the two most intense exchanges of the evening. He ridiculed Trump for failing to pledge support for the Republican nominee and then trading jabs with New Jersey Governor Chris Christie over National Security Agency anti-terrorism programs that collect telephone records in bulk.
When Trump refused—in the opening minutes of the debate—to pledge support to any Republican nominee other than himself and suggested he may run as an independent candidate if he loses, Paul jumped in, saying, "That's what's wrong."

"He buys and sells politicians of all stripes," Paul said. "Look, he's already hedging his bets on the Clintons, OK?" The Washington Post reported Thursday that, before deciding to run, Trump called former President Bill Clinton, the husband of Democratic front-runner, Hillary Clinton. 
Trump shrugged off the attack from Paul. "Well, I've given him plenty of money," Trump said of Paul. The Federal Election Commission, however, has no records of Trump contributing to Paul.
But the most memorable exchange of the night was between Paul and Christie.
Christie said it was "completely ridiculous" for Paul to say he wanted to collect more data on terrorists, and less on law-abiding Americans. "How are you supposed to know, man?" Christie said. 
"Get a warrant!" Paul shouted, as the two talked over one another and the debate moderators struggled to keep control.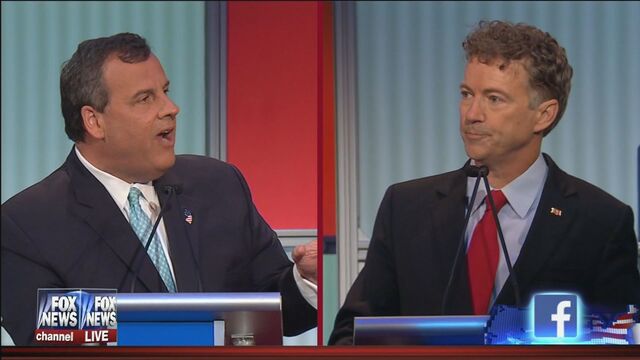 "Listen, Senator," Christie shot back. "You know, when you're sitting in a subcommittee just blowing hot air about this, you can say things like that."
Paul dug in further, saying he didn't trust the Obama administration to collect records. "I know you gave him a big hug, if you want to give him a big hug again," Paul said, referring to the embrace Christie gave President Barack Obama in the aftermath of Hurricane Sandy, during the 2012 presidential election.
Christie stared back at Paul and nodded. "The hugs that I remember," Christie said, "are the hugs I gave to the families who lost their people on Sept. 11."