politics
Foreign Policy One of Few Debate Topics Trump Didn't Dominate
A clash between Chris Christie and Ron Paul over NSA phone searches goes viral on Facebook as candidate compete to slam President Obama's leadership abroad.
By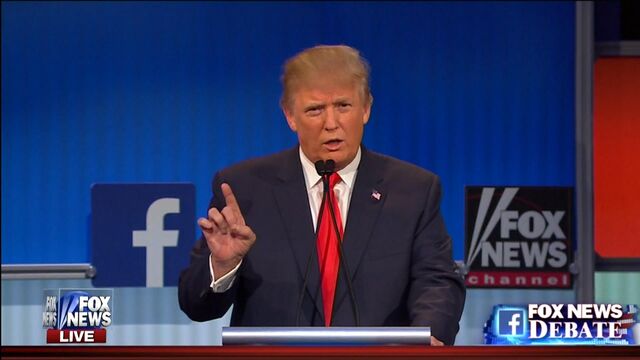 The first Republican presidential debates of the 2016 election showed Americans a crowded field of candidates vowing to undo President Barack Obama's nuclear deal with Iran, increase U.S. military spending, and take a more aggressive military approach to the Islamic State.
In back-to-back debates designed to accommodate the unusually large number of candidates for the Republican presidential nomination, the candidates also vied to come up with the harshest critiques of Obama and his former secretary of state, Hillary Clinton, the Democratic presidential front-runner, for taking weak approaches to national security and foreign policy. 
Senator Ted Cruz of Texas called Obama an "apologist" for terrorists. Former Arkansas Governor Mike Huckabee inveighed against the notion of the military covering transgender surgery for service members. "The military is not a social experiment," he said, adding that its purpose is to "kill people and break things" and to "protect America."
Foreign policy and national security offered one of the few areas of the debate where Donald Trump did not dominate, though the real estate mogul-turned-presidential candidate did note that he expressed opposition to the war in Iraq in 2004, long before most Republicans did.
Christie vs. Paul
In fact, for all the fireworks surrounding Trump, the most social interactions on Facebook, according to the social networking site, which co-sponsored the debate with Fox News, came during testy exchange between Kentucky Senator Rand Paul and New Jersey Governor Chris Christie over U.S. spy programs and how to balance counter-terrorism efforts with civil liberties. 
When Christie, a former federal prosecutor, said "we have to give more tools" to the National Security Agency, Paul, a critic of NSA overreach, responded, "I want to collect more records from terrorists but less records from innocent Americans." 
"That's a completely ridiculous answer," Christie shot back. Paul, raising his voice, retorted: "Get a warrant."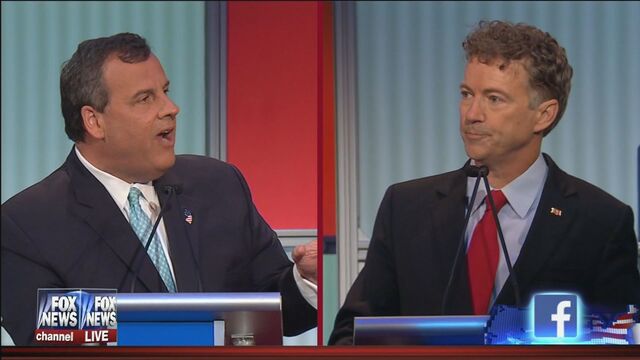 The exchange revealed some of the rifts in the Republican Party over issues of national security.
Paul, who expressed the most anti-interventionist stances in the debate, called himself the leading proponent of "not arming the allies of ISIS. We didn't create ISIS. One of the ways we stop them is by not funding them and not arming them."
He more broadly defended his views on scaling back U.S. spending on other nations. "We shouldn't borrow money from China to send it anywhere," including Israel, he said. "Israel is a great ally and this is no particular animus of Israel. We cannot give away money we don't have. It's got to stop somewhere."
'Terminate the deal'
Candidates generally indicated they would try to undo Obama's proposed Iran nuclear deal, which would ease international sanctions in exchange for verifiable limits on Iran's nuclear program. The accord is up for a vote in Congress next month and one of the Senate's top Democrats, Senator Chuck Schumer of New York, announced during the Republican debate that he will vote against the president.
If the agreement survives the congressional vote, "you terminate the deal on Day One" and impose "more crippling sanctions," said Wisconsin Governor Scott Walker. "We need to stop the Iran agreement for sure," said former Florida Governor Jeb Bush. Huckabee said that the U.S. "got nothing; we didn't even get four hostages out" of Iran.
Paul also said he opposes the Iran deal and that Obama "gave away too much too early," but showed his contrarian side on foreign policy. "I don't immediately discount negotiations," he said, adding a reference to a conservative icon, former President Ronald Reagan: "Reagan did negotiate with the Soviets."
Hawkish tone
Candidates spoke in varying degrees of intensity about ratcheting up the fight against ISIS. Going furthest: Senator Lindsey Graham of South Carolina, who called for sending U.S. ground troops. "We need more American ground forces in Iraq and that America has to be part of a regional ground force that will go into Syria and destroy ISIL in Syria," he said. Bush said that "we need to take out ISIS with every tool at our disposal."
The generally hawkish tone extended to other foreign policy issues. Walker called for reinstating missile defense systems in Poland and the Czech Republic. Addressing concerns about Chinese and Russian hacking of the U.S., Walker quipped that those two governments probably know more about Clinton's e-mail servers than U.S. lawmakers investigating her.
Asked whether he would bring back waterboarding, now deemed a form of torture, as an interrogation technique for suspected terrorists, neurosurgeon Ben Carson declined to answer the question, saying the U.S. has gotten into a "mindset of fighting politically correct wars" and that "I wouldn't necessarily be broadcasting to everybody what we're going to do."
Before it's here, it's on the Bloomberg Terminal.
LEARN MORE