Photographer: Mike Hewitt/Getty Images
Sports
The Premier League's Smallest Club Wants an American Friend
The Premier League season kicks off on August 8, with many eyes on AFC Bournemouth - one of the smallest teams ever to compete with the big boys of English soccer.
By and
The new kid on the block in the English Premier League already has a Russian owner. Now it wants an American best friend.
When the new soccer season gets under way on Saturday, global giants Manchester United, Manchester City and Chelsea will be joined in the Premier League by AFC Bournemouth, a tiny club that started the 2008/09 season almost at the very bottom of England's 92-club professional league system. Financial irregularities meant Bournemouth was deducted 17 points before a ball was even kicked, and was kept off the bottom only by Luton Town, an even worse offender, which started on minus-30.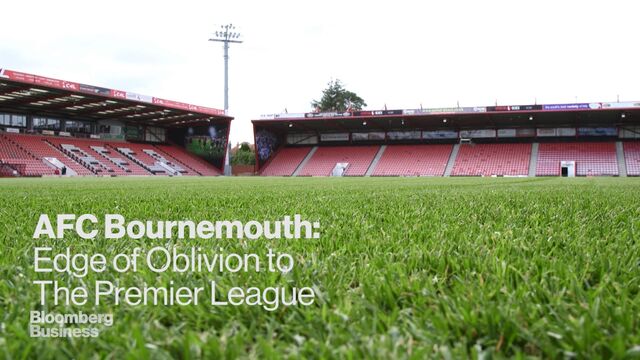 Seven years later Bournemouth, whose Vitality Arena stadium holds only 11,700 fans, will line up against some of the biggest clubs in world soccer, and is courting a formal relationship with Major League Soccer team Philadelphia Union.
The club arranged a pre-season tour to Pennsylvania, beating the Union 4-1 in a friendly match, and Bournemouth Chairman Jeff Mostyn said it's something he wants to see more of: "It's the start of what I hope to be a very strong relationship."
Bournemouth's second match in the upcoming Premier League season sees them visit Liverpool's Anfield stadium. It's a long way from the threat of insolvency during a live news conference.
"The administrator said to me, 'I need a check for the wages,' which was 100,000 pounds at the time, 'and if you can't do it or aren't prepared to do it I will liquidate the club on air at this press conference,'" Mostyn said.
"So that's how close the club came to oblivion at that time."

Soccer-watchers say the club – nicknamed the Cherries – has a decent chance of picking up points early in the season in matches against lower-ranked teams.
It might need those early points because in pure financial terms the team will find it hard to compete with the rest of the Premier League. In 2013/14, the last season for which accounts are available (and during which Bournemouth played in second-tier Championship), Bournemouth's revenue was just 10.3 million pounds ($16 million) – with wage costs at 17.3 million. That puts them well behind virtually all their new rivals.

With this in mind, the chairman remains grounded, calling Chelsea, Arsenal, Manchester United and others "an elite group." Instead, Mostyn said, Bournemouth will be "the best we can possibly be."
The club opted against expanding their stadium to focus on player recruitment, with in-depth scouting extending to an evaluation of prospective players' Twitter accounts. Bournemouth aims to mimic the success of Swansea City, another small club promoted in recent years, which has thrived in the top division.
Behind all of this there is the mysterious figure of Maxim Demin, Bournemouth's Russian owner. He bought 50 percent of the club in 2011, eventually taking on the rest in 2013. He is thought to have invested some 25 million pounds, with more to come. Little is known about him, although he is reported to have a background in petrochemicals and interests in at least two U.K.-based companies.
"We can't see Maxim being anything else than continuously invested and committed to the football club," the chairman said.
So the Russian flag will keep flying outside the Vitality Arena. Perhaps the Stars and Stripes will join it before too long.
---
AFC Bournemouth: Early Matches 
Aug. 8: Aston Villa (H)
Aug. 17: Liverpool (A)
Aug. 22: West Ham (A)
Aug. 29: Leicester City (H)
Sep. 12: Norwich (A)
Sep. 19: Sunderland (H)
Sep. 26: Stoke (A)
---
Before it's here, it's on the Bloomberg Terminal.
LEARN MORE