Car Reviews
The Ford Mustang GT Convertible Is Still Lacking the Sweet Stuff
The engine is more powerful than ever, and that roar is there. But it's pricier than the rest of the pony cars—so why isn't it more luxe?
By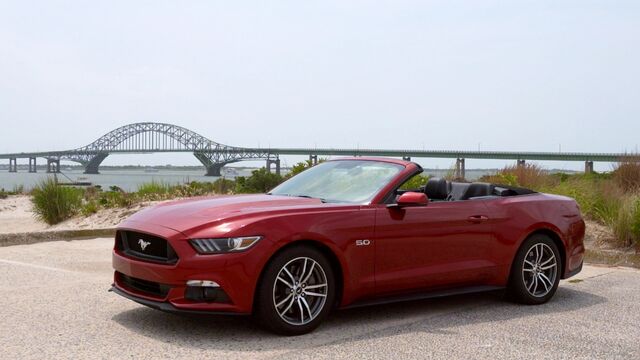 Everyone has a Mustang story.
My college boyfriend, for example, owned a gleaming white Cobra, model year 2000 or so. He had inherited it from his mother after she traded her short-lived bout of 1960s nostalgia for what became a decade-long health-food kick and a Toyota Prius.
I could hear that car coming a mile away. And sometimes I'd drive it on the sly. In fact, I think it knew me better than he did. Which probably explains why it didn't work out between Mustang Sal 'n' me. Shame about the car …
This integration into the narrative of our lives—love lives, social lives, secret lives—is what Ford is banking on with its new Mustang GT convertible (especially since the car itself just turned 50 years old). You don't need a Mustang in your life, the company knows. But you just might want a life with a Mustang.

In the first five months of this year the Mustang as a category surged ahead of its reasonably-priced pony car competitors (the Chevy Camero and Dodge Challenger) and even topped its own previous year sales by 55 percent during the same period. A redesign of the car (and a more powerful engine) in honor of its 50th anniversary brought in more fans as the un-renovated Camaro began to slip behind.
I hadn't yet reviewed the Mustang GT (the higher end, 5.0-liter V8 version of the line) for Bloomberg, and since I noticed the price range was creeping up into luxury territory, I thought I would check it out. Because for the roughly $49,000 it costs to get the GT that I drove (which starts at $42,000 but with some basic options climbs pretty quickly), you could also buy an Audi A5 cabriolet, a BMW 4 Series convertible, or a Mercedes-Benz SLK roadster. Not to mention the fact that the ol' Chevy Camaro 2LT convertible and the Dodge Challenger R/T cost thousands of dollars less. So I got behind the wheel during a typically sweltering New York summer week, and gave the GT a spin.
First Impressions
Trimming and sound quality are by no means the only or even primary data points for making a final choice on a car, especially a sports convertible, but I'm starting here because their inferior nature is the first thing you notice as you slide behind the wheel. (Nimbleness and smooth performance, on the other hand, come into play later. I'll get to that in a moment.) If a car is priced the same as others from "luxury" brands, I think it should hold up its end of the bargain. It should feel and smell and sound like a luxury car, too. After all, the leather in the aforementioned Audi feels thick and soft, the sound system in the BMW sounds better than what you probably have at home, and that SLK drives perfectly when it comes to refinement and athleticism. The Mustang lacks any such refinements.

I know other drivers may not agree. But if Ford is going to rely just on nostalgic loyalists and fanboys who will buy the car regardless of what it costs, it strikes me that the company is cutting off a wide potential audience that might otherwise have been attracted by this piece of Americana. Imagine how much further the line could go than it's already come this year.
Hot Muscle Body
Don't get me wrong. I don't have to tell you there is plenty to love here. Ford has done an exceptional job of recalling past iterations of the 'Stang GT in this new one, accentuating its long nose, short rear deck, recessed cockpit, side scallops, and those unmistakable sectional taillights (these are updated to illuminate in staged vertical lines fanning toward the right or left, depending on which direction you plan to turn). 

The trunk is big enough to comfortably store weekend luggage for four. The back seat is big enough—it's certainly more practical than the "back seat" in, say, a 911—but I doubt you'll have many takers volunteering to ride back there when the (quick-opening) ragtop is up.
More important, and in general, the whole thing looks and feels incredibly muscled, like some sweating stallion in a Spaghetti Western. (That's a good thing.) The hood has small slits set high up on the nose, and the face has bars across the mouth recalling that blunt and aggressive metal face mask Tom Hardy wore for half of Mad Max: Fury Road. This is no precious picked cherry; when you get inside it, you're going to want to drag race. You're going to want to bash it around a little.
American Power
It'll run with the toughest American muscle, too. The Mustang GT that I had at the beach the other day has a 5.0-liter V8 engine that gets 420 horsepower and will go zero to 60 mph in 4.8 seconds, thanks to new intake and exhaust camshafts with increased lift, plus larger intake and exhaust valves. It has way more torque (390 pound-feet) than the Camaro and the BMW 4 Series. 

Stepping on the gas as I crested the Williamsburg Bridge, I felt the car lunge forward with the eagerness of a colt. And through every gear, it eagerly shifted toward speed. But it felt as green as a colt, too, a little raw. It's not nearly as effortless through acceleration as anything from the Germans. And it weighs 160 pounds more than its 3.7-liter cousin. Even though it shares the six-speed automatic transmission, you can feel it strain as it passes through the gears. The steering is tight—I'd even say abrupt—so this is certainly not a refined machine. But then again, we wouldn't really expect that in a Mustang, anyway. You want to feel it work.
What we do expect—and get, to the blessedly nth degree—is that sound. The sound of adrenaline and horsepower and gasoline and history in one sweet melodic roar. That sound. The one you could identify out of a muscle car parade. The one that reminds you of those warm summer nights leaving the 7-Eleven with your buddies, all of you hyped up on Slurpees and teenage hormone-fueled excitement for what may come as the night progressed. (Even if those nights never happened for you.) That sound. It is beautiful.  
Empty on the Inside
The other sound—that of the sound system—could use some work. Even with the $1,795 "pro" sound package, the 12 speakers sounded flat. Elsewhere inside, I had trouble feeling comfortable with the limited visibility afforded by the miniature side mirrors, and the "leather trimmed" sport seats were the least comfortable I've felt in recent memory. Like the sound system, they felt flat, and they hit all the wrong notes from my hips to my neck.

Thankfully LED headlamps and fog lights, remote keyless entry, heated seats, dual-zone climate control, ambient lighting, and selectable drive modes come standard.
Look, I get it. Handcrafting and fine detail were never part of Mustang production ethos. The idea behind the early cars was that they'd appeal to wide swaths of blue-collar workers—early ads were aimed at secretaries—and young people on the path to upward mobility. It was a plan that worked better than ones for any other American car ever. But with the GT we've got a car that's as expensive as luxury models (from Audi, BMW, Mercedes, et al) without any of the creature comforts the others offer. (Even that souped-up Challenger R/T V8 costs only $31,000, and the Camaro 2LT convertible V6 goes for just $35,000.) It doesn't quite seem fair.
Not that it matters too much, obviously. I have a feeling that if you want a Mustang convertible and you can afford it, you will get a Mustang convertible. And $42,000 or $45,000 or $48,000 will seem a small price to pay to recapture that special feeling from years past—or to start making new American-bred stories of your own. It's working so far.

Before it's here, it's on the Bloomberg Terminal.
LEARN MORE