The Dow Is Close to Reaching the Dreaded Death Cross
Joseph Ciolli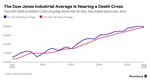 A six-day decline in the Dow Jones Industrial Average is wreaking havoc on the gauge's price chart, spurring a pattern of congestion in its moving averages that is despised by momentum traders.
The 30-company gauge has lost 4.9 percent since reaching an all-time high in May. That's brought its mean price in the past 200 days within 0.25 percent of its 50-day average, a convergence that hasn't happened since January 2012.
The intersecting lines are taken by technical analysts as evidence of a breakdown in momentum and a sign an asset's best days are behind it. Known in some quarters as a death cross, the formation is another sign the unrelenting gains that have lifted American stocks since 2012 are slowing.
"When you're in a short-term trading range, that's going to flatten out the moving averages," Frank Cappelleri, a market technician at Instinet LLC in New York, said by phone. "And since you've been in an uptrend for a number of years leading up to that, the 200-day will continue to rise. Because of how they're constructed, this was inevitable."
The Dow's recent weakness was exacerbated on Thursday by a decline in technology shares, which pushed the index down 0.7 percent. International Business Machines Corp. and Microsoft Corp. slipped more than 0.2 percent. The loss marked the Dow's sixth straight daily decline, the longest this year and a period that has seen it slip 1.9 percent.
Range Trading
U.S. equities have been trading in a range as breadth has disintegrated after three years without a 10 percent correction. More than 100 percent of this year's increase in the Standard & Poor's 500 Index is attributable to just two sectors. That's the tightest clustering for an advancing year since 2000, Bloomberg data show.
While the pattern in the Dow is cause for concern, it could also signal a bottom for the index and represent an opportunity to buy, according to Cappelleri.
"It's going to be pretty sufficiently oversold at the point of a death cross," Cappelleri said. "A lot of times when you see one, it happens towards the end of a short-term move, so you could get whipsawed."