Is Jon Stewart Done With Being a Political Figure?
His last episode of The Daily Show offered no diatribes, only a simple, charming fable basically imploring viewers to keep their guard up.
By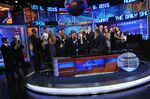 As anyone who has ever watched an episode of The Daily Show With Jon Stewart for the last 15-plus years could have predicted, Jon Stewart ended his show Thursday night with a lecture to the camera.