Fed's Past, Present and Future Seen in Bank of England Data Dump
David Goodman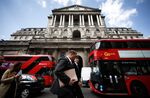 For a sneak peak into the thinking of Federal Reserve policy makers, check out the views of their counterparts in London.
That's the suggestion of Steve Barrow, head of Group-of-10 strategy at Standard Bank Group Ltd., who says their outlook is likely to be similar because both central banks are moving toward raising interest rates.
By releasing minutes of its August meeting at the same time as its interest-rate decision this week, the Bank of England gave traders a more up-to-date hint of its mindset than after previous policy gatherings. Officials held the main rate at a record low and predicted inflation will stay muted as energy costs fall and the pound surges.
The BOE release may "give us some early clues about how the Fed might have been thinking at its late-July meeting," London-based Barrow wrote in an e-mailed note on Friday. "There are probably more similarities than differences, and certainly when it comes to international factors, their views are likely to be pretty close."
Investors are scouring each new release from both central banks for clues as to the timing of their first rate increases since the financial crisis.
The minutes of the Fed's July 28-29 meeting aren't due to be released until Aug. 19. Investors will also be watching Friday's payrolls report for signs the U.S. economy is robust enough to withstand higher rates as early as next month.
Sonia's Signal
Traders see a 48 percent chance U.S. officials will lift rates at their September meeting and 74 percent odds of them acting at or before the December gathering, data compiled by Bloomberg show. This is based on the assumption that the effective federal funds rate will average 0.375 percent following the increase.
In the U.K., forward contracts based on the sterling overnight index average, or Sonia, show traders predict the 0.5 percent main rate will rise in May. That's three months earlier than what was implied as recently as July 10.
On "Super Thursday," as it was dubbed by strategists, the BOE published its rate decision, the breakdown of the vote, minutes of the Monetary Policy Committee meeting and its quarterly Inflation Report simultaneously. Previously, the minutes came about two weeks after the rate decision.
'Muted' Inflation
Governor Mark Carney said inflation will stay "muted" and that there may even be another period of price declines. His remarks, along with the new forecasts, were seen by traders as reducing the chances of a rate increase this year.
"The MPC minutes showed that the bank talked about things such as the fall in oil prices, the slide in world trade and the strength of the currency," Barrow wrote. "The Fed will have probably considered these issues as well and, while their domestic impact differs from the U.K., we still doubt that these things could have made the Fed more hawkish –- as the market seems to think."