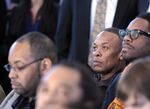 Rapper and producer Dr. Dre finally dropped his long-anticipated new album, Compton, which takes him back to his roots, the eponymous small city just south of Los Angeles. This is the setting for Dre's early, Yo! MTV Raps-era group N.W.A., and the 1988 Straight Outta Compton album that launched them on a path that most certainly will place them among the few hip hop artists in the Rock and Roll Hall of Fame. A biopic on N.W.A.'s rise (and disintegration), also called Straight Outta Compton, will be released in theaters next Friday.
Meanwhile, the constant variable through all of these titles and narratives is Compton, the small city that became the poster image not only of gang life in the late 1980s and early 1990s, but also of middle-class black suburban dreams-turned-nightmares. The monologue intro on Dre's new album reminds us of this setting:
Compton was the American dream. Sunny California with a palm tree in the front yard, the camper, the boat. Temptingly close to the Los Angeles ghetto in the 50's and 60's, it became "The Black American Dream". Open housing paved the way as middle-class blacks flooded into the city. Whites don't buy houses in Compton anymore. Now with 74% of the population, black power is the fact of life. From banks to bowling alleys. But the dream that many blacks thought they were buying has turned sour. Though the mayor and four out of five city councilmen are black, they have been unable to solve the problems of crime and growing welfare which is slowing turning suburban Compton into an extension of the black innercity. Crime is now as high as the ghetto. 47 homicides last year gave Compton one of the highest per capital rates in the country. Juvenile gang activity, muggings, small robberies make some blacks want to leave
This, of course, is not the Compton of 2015. Nor has it been Compton for at least the last couple decades. Despite the King Kunta-resurgence of Compton sparked in recent years by rapper Kendrick Lamar, the city is now almost two-thirds Latino and a third African American in population. It is true, though, that whites don't buy houses there; they make up less than 1 percent of the population. It's also true that the majority of elected government officials are predominantly black, a signal of the lag between demographic conversion and political power.
Aja Brown, the 32-year-old Compton mayor elected in 2013, is black with an urban planning wunderkind reputation that's placed on her the pressure of transforming the city from the place described in Dr. Dre's intro. She told Elle magazine earlier this year that she planned to turn it into the "new Brooklyn"—a startling announcement given that Compton rappers and their L.A. compatriots spent the better part of the last 40 years doing their damnedest to completely distinguish themselves from Brooklyn. (Not to mention, what part of Brooklyn are we talking about? Williamsburg? Brownsville? What kind of crazy loop error would that create with Matty Rich's 1991 film Straight Out of Brooklyn?)
Whatever Brown's plans are for Compton, it didn't stop Dre from reaching out to her to let her know that he wanted to do something "special" for the city in connection with his new album. As he told DJ Zane Lowe last night, he plans to donate proceeds from Compton to building a performing arts center in the city. Dre's exact quote:
I reached out to the Compton mayor's office, got in touch with the mayor Aja Brown, and I decided to donate all of my artist royalties from the sale of this album to help fund a new performing arts and entertainment facility for the kids in Compton. We reached out to Brown quite a few times over the last month or two I been really trying to do something special for Compton, I just couldn't figure out what it was, she already had this idea and was already in process of working on it...
Brown co-signed the venture in the L.A. Times, saying: "I believe this performing arts center will provide a pathway for creative expression, exposure and training to the myriad of industries that support arts, entertainment and technology — while providing a much-needed safe haven for our youth."
This sounds exciting, but we should be clear what Dre has pledged here—"artist royalties," which in today's Spotify-based market, where artists make fractions-of-fractions of cents off their records, could mean something paltry. Even if Dre's exclusive deal with Apple Music is infinitely better than the fraction of returns artists typically receive in royalties, it still will probably be much less than the royalties he'll receive as a producer, engineer, and songwriter, which typically are much higher. In 2013, Dr. Dre made headlines when he announced he was donating $70 million to the University of South California, which prompted some to ask how come he didn't donate to a historically black (and historically underfunded) college.
Dre's pledge to build a performing arts center in Compton likely comes in response to that challenge. If it helps produce a hundred more Dr. Dre's, then it could be good enough that the city doesn't have to become a new Brooklyn—it will just be a stronger, better Compton.