Dorsey's Dilemma: Running Twitter Seen Embroiling Square IPO
Sarah Frier and Leslie Picker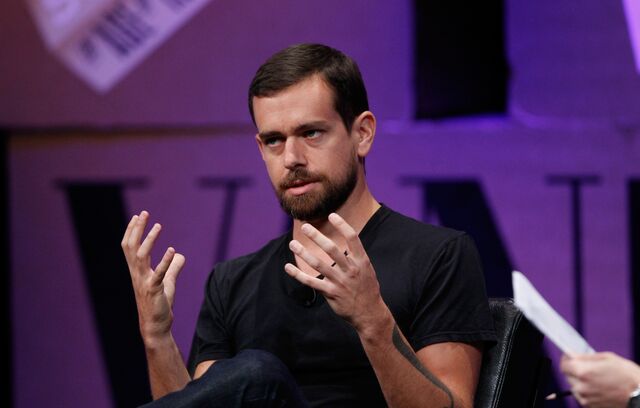 Jack Dorsey's role as a potential candidate to become Twitter Inc.'s next chief executive officer is complicating the path to an initial public offering for Square Inc.
Advisers for Square's IPO already are making preparations in case Dorsey leaves the company he co-founded and has run since 2009, people familiar with the matter said.
Dorsey is interim CEO at Twitter Inc. while the social-media company searches for a permanent replacement. Twitter's board has said it wants a full-time CEO, ruling out Dorsey as long as he stays at Square. The electronic-payments company has confidentially filed for an IPO, people familiar with the matter have said. In interviews, Dorsey hasn't ruled out either path.
If Dorsey departs from Square, that may delay the IPO or decrease the valuation the company could get, said the people, who asked not to be identified because the discussions are private. While it wouldn't be a legal issue -- Square would just amend its confidential filing -- the company may need to wait to go public until a new CEO shows some success, said Lise Buyer, a partner at Class V Group, an IPO advisory firm.
"Unless whoever they bring in is a very well-known quantity to investors, it could really affect confidence in the IPO," said Buyer, who isn't associated with San Francisco-based Square. When a new company comes to market, investor decisions are "all about confidence in management," she said.
Still, bankers would make the argument that Square was in such great shape that Dorsey was able to leave to take care of his bigger problem: Twitter, according to one of the people familiar with the matter.
Aaron Zamost, a spokesman for Square, and Jim Prosser, a spokesman for San Francisco-based Twitter, declined to comment.
Few Answers
Dorsey, who owns 26 percent of Square, according to a regulatory filing, said he would remain CEO there when he took the interim job at Twitter. But after Twitter's board announced they were looking for a full-time candidate, his answers changed. In an interview after Twitter's earnings report, when asked if he would remain at Square, he was noncommittal.
"I'm going to do what I think is best for both companies and make sure they're set up for success," he said.
Dorsey helped start Twitter in 2006 and was CEO before getting pushed out in 2008. Twitter's revenue chief Adam Bain, an internal candidate for the CEO post, is unsure if he wants the job, according to people familiar with the matter. The company is conducting a search for a leader that could last several months.
Chris Sacca, a long-time Twitter investor, said Friday that Dorsey should be able to do both. If he became Twitter's CEO on a permanent basis, head of revenue Adam Bain could be president and chief operating officer, while co-founder Ev Williams should be appointed the executive chairman of the board.
"He has incredibly strong teams at both companies and can do both jobs," Sacca said on Twitter.
Square's Future
Square has been working with Goldman Sachs Group Inc., Morgan Stanley and JPMorgan Chase & Co. on the IPO, people familiar with the matter have said. The company, which processed $30 billion in payments from its millions of merchant customers in 2014, has been expanding into areas such as business lending and payroll processing.
Dorsey's move to Twitter already has created a spate of investor questions for Square about the stability of its leadership ahead of its planned IPO, according to Francis Gaskins, research director at IPOPremium.com.
"Why would he even go to Twitter, if his job is at Square and Square is growing?" Gaskins said. "He should stay at Square. Investors don't want to see CEOs changing, because it suggests that something is amiss in the business plan."
Before it's here, it's on the Bloomberg Terminal.
LEARN MORE