Icahn Says He'll Be Right There at Treasury for President Trump
The former corporate raider reports a change of heart after watching Thursday night's debate. But it may just be a Friday afternoon case of the giggles.
By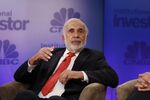 Billionaire financier Carl Icahn just may have changed his tune on being Donald Trump's Treasury Secretary.
"After last night's debate I decided to accept @realDonaldTrump offer for Secretary of Treasury," he tweeted Friday afternoon following Thursday's Republican presidential debates. "Seriously, the methods of electing our corporate and political leaders have become completely dysfunctional," he said in follow-up tweet, adding in a third: "In both areas, we are in dire need of a breath of fresh air."
What did he mean exactly? Was it all a joke? As his social-media fans RT and favorite his tweets, Icahn's office said he was not immediately available for comment.
Trump, who leads the 17-candidate Republican primary field in polling, had suggested the former corporate raider for the spot on June 18. Icahn had demurred, saying he was "flattered" and also impressed by the real estate mogul's comments on the Fed. Alas, Icahn does "not get up early enough in the morning to accept this opportunity," he said.
It's unclear if Trump had made a formal offer for the cabinet position, which doesn't normally come until a candidate has actually been elected. Trump has also said former GE CEO Jack Welch and KKR co-founder Henry Kravis could run Treasury.