Arch Coal Dispute With Senior Lenders Puts Debt Plan at Risk
Jodi Xu Klein and Laura J. Keller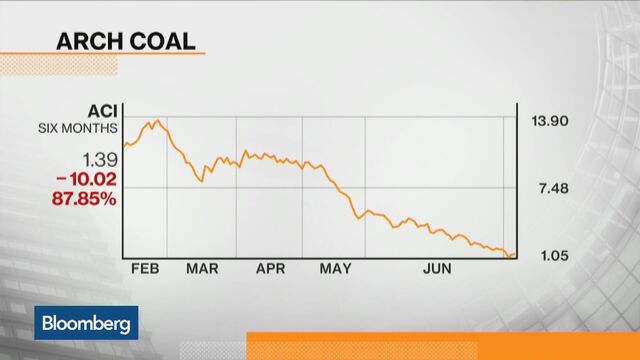 Arch Coal Inc. is caught in a dispute with senior lenders that's thwarting its plan to cut debt costs and avoid the fate of four industry peers that have filed for bankruptcy protection.
A group of investors that holds the company's $1.9 billion term loan is seeking to block a proposed debt swap, which would allow Arch Coal to replace its credit line with one that has less restrictive terms. The miner's cash and available credit is declining toward the $550 million minimum mandated by its loan covenants.
The company, which last posted net income in 2011, is among a slew of U.S. coal miners that are struggling amid a plunge in prices. Alpha Natural Resources Inc., Walter Energy Inc., Patriot Coal Corp. and James River Coal Co. have filed for bankruptcy during the past 16 months after the price of coal used in steelmaking dropped 67 percent since 2011.
"It buys them time," said Spencer Cutter, a credit analyst at Bloomberg Intelligence. "The debt exchange cuts their total leverage, the amount of interest and removes the strict covenant."
The company's shares traded at $1.36 at 11:46 a.m. in New York, down 92 percent this year. They plummeted after Arch on Tuesday did a 1-for-10 reverse stock split designed to keep it listed on the New York Stock Exchange.
Refashioned Loan
Investors claiming to hold a majority of the term loan directed Bank of America Corp., the agent for the debt, not to grant approval for the company's proposal to swap as much as $2.38 billion of borrowings for new obligations. The objection was based on the belief that the plan would result in the issuance of $404 million of new loans, diluting existing lenders' claims on the company's assets, three people with knowledge of the matter said last month.
Arch said in a July 29 statement that approval by the holders of the term loan wasn't required.
Bill Halldin, a spokesman for Charlotte, North Carolina-based Bank of America, declined to comment. Logan Bonacorsi, a spokeswoman for St. Louis-based Arch Coal, didn't respond to telephone and e-mail messages seeking comment.
Bonds Fall
Arch Coal's $1 billion of 7 percent senior unsecured bonds maturing June 2019 last traded at 13 cents on the dollar on July 20, according to Trace, the bond-price reporting system of the Financial Industry Regulatory Authority. The debt has lost 80 percent of its value in the past 12 months.
The miner plans to use the debt exchange to refashion the $250 million revolving loan in a way the lenders oppose. Lenders including Oaktree Capital Group LLC, Archview Investment Group and Caspian Capital sent a letter dated July 17 to Bank of America that contended the new credit isn't revolving because it can't be re-borrowed once it's funded, according to two people with knowledge of the matter.
Alyssa Linn, a spokeswoman for Oaktree at Sard Verbinnen & Co., Peter Carey, a spokesman at Archview, and Adele Murray, a spokeswoman for Caspian, declined to comment.
The new loans replacing the revolver would instead count as regular borrowing subject to maximum debt limits spelled out in the term-loan agreement with Arch. Under those rules, "it appears to us that their issuance is a breach" of the loan agreement and is "impermissible," according to the letter, a copy of which was obtained by Bloomberg.
'In Limbo'
The lenders also argued that the swapping junior creditors would receive preferential treatment over the existing term-loan holders because they would reap more in yield. That would violate what's known as the most-favored nations provision, which is used to ensure creditors of the same standing -- which the two classes would be after the exchange -- receive fair treatment, the letter said.
Bank of America resigned as agent at the end of July, two other people with knowledge of the matter said, removing itself from a potential feud between the holders of the term loan and lower-ranking creditors. The resignation takes effect on Sept. 1, they said.
"The resignation put the deal in limbo until they can find a new agent," Cutter said.
Arch, which announced the exchanges on July 2, is trying to manage $5.1 billion of borrowings while attempting to ride out the slump in coal prices. The swaps would reduce its total debt by about 30 percent and ease an interest burden that amounts to almost $400 million a year, according to data compiled by Bloomberg.
Coal Prices
"The biggest thing about the debt exchange is Arch Coal will be able to avoid breaching the terms that will cause the credit line to be terminated," said Bloomberg Intelligence's Cutter. "They're getting closer and closer to breaching it."
Coal prices have been under pressure since natural gas began dropping in 2008 as a result of oversupply. Both are used to power electricity generation. Meanwhile, President Barack Obama's Clean Power Plan, released Monday, threatens to further erode demand for coal.
"The industry is in store for at least one to two years of tough times because the demand will remain pressured by natural gas and regulatory issues," said Ted O'Brien, chief executive officer at Doyle Trading Consultants LLC, a coal-industry research firm in New York. "Even the lower-cost producers have been impacted."