Stuck at 'Kiddie Table,' Fiorina and Fellow Republicans Act Their Age
Mark Niquette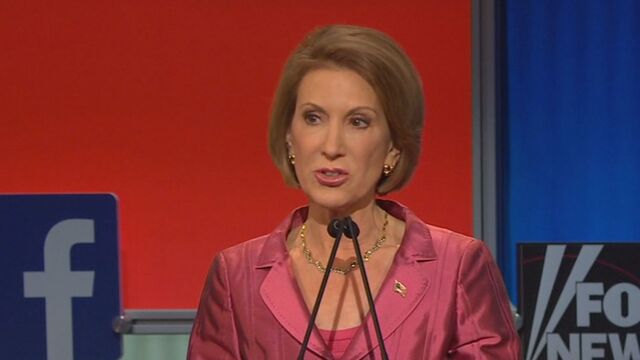 The kiddie-table candidates acted like grown-ups.
Republicans relegated to the earlier of two Cleveland presidential debates Thursday tried to claw their way to the first tier, with former Hewlett-Packard Co. Chief Executive Officer Carly Fiorina offering a crisp and defiant rejoinder to those who say her lack of political experience should bar her from the race.
"I can win this job, I can do this job, I need your help, I need your support," Fiorina said in a closing statement that recalled a boardroom presentation. "I will, with your help and support, lead the resurgence of this great nation."
Fiorina appeared with former Texas Governor Rick Perry, U.S. Senator Rick Santorum of Pennsylvania, Louisiana Governor Bobby Jindal, South Carolina Senator Lindsey Graham, former New York Governor George Pataki and former Virginia Governor Jim Gilmore. They were excluded from a later Fox News debate with real-estate mogul Donald Trump and nine other candidates who polled higher than they.
Having to participate in what was mocked as the "kiddie table" could hurt candidates' legitimacy with voters and donors. But many noted that actual voting doesn't start for six months and early front-runners have faltered in the past. And in this media age, how the debate is disseminated and covered is often as important as who watches it live.
No Damage
The candidates refrained from direct confrontation, making drama-free, businesslike cases for why they should be president.
Perry and Santorum, who have run before and have extensive debate experience, handled themselves well, said David Winston, president of the Winston Group, a Washington strategy firm that does work for Republicans. So did Fiorina and Jindal, he said.
"I don't think anybody did any harm to themselves," said Winston, who was part of former House Speaker Newt Gingrich's 2012 campaign.
"They should invite Carly Fiorina back for the 9 o'clock debate," Gingrich tweeted.
Ron Bonjean, an unaffiliated Republican strategist in Washington, also gave the edge to Fiorina.
"Carly Fiorina clearly won," he said.
Fiorina tried to distinguish herself as a conservative rather than a "member of a political class," while Perry said his experience running Texas for more than 14 years proved he has the ability to do the job.
"This is going to be a show-me-don't-tell-me election," Perry said. "America is just a few good decisions and a leadership change at the top away from the best years we've ever had."
Jindal also positioned himself as a "doer, not a talker" with his record in Louisiana.
Momentous Decisions
While there were few moments destined to live in political memory, some candidates tried to stand out with aggressive rhetorical sallies.
Santorum compared the U.S. Supreme Court ruling legalizing same-sex marriage to its fateful 1857 case that held a black man couldn't be a citizen.
"It is not any more than Dred Scott was settled law to Abraham Lincoln, who, in his first inaugural address, said, 'It won't stand,'" Santorum said. "This is a rogue Supreme Court decision."
Graham had the harshest criticism of Democratic frontrunner Hillary Clinton and committed to sending more troops to the Middle East to deal with the Islamic State.
"We need somebody ready to be commander-in-chief on day one," Graham said.
Trump's presence was inescapable. Asked about "the elephant that is not in the room" by Fox News moderator Martha MacCallum, Perry said Trump, a reality-television star with a vaguely defined platform, is unserious.
"We need a president that doesn't just talk a good game," Perry said.
Obstacle Avoided
Bonjean, the strategist, said participating in the earlier event may actually have been an advantage because they didn't have to share the stage with Trump or consider how to contend with him.
Many people will get their impressions from news coverage and social media, said Kristen Soltis Anderson, a Republican pollster who has studied young voters. That gives the candidates in the early debate the opportunity, she said.
"Because of the way media works now, and the way people are able to consume video and information, those clips and moments can live beyond that happy-hour debate," she said.
The early event also may have higher viewership than some of the 20 Republican debates in 2012, said Karl Rove, a Republican strategist and former adviser to President George W. Bush.
"They're gonna have their names spelled right, they're going to be talked about, and they'll have a chance to speak, and they'll be better off," Rove said at a forum Wednesday in Cleveland.