China Gets a Little More Fresh Air
Idled factories, less coal use, and lower emissions make breathing easier
Christina Larson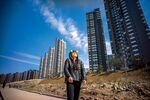 On a Tuesday afternoon in late July, a newlywed couple prepared to pose for their wedding portraits in front of Beijing's historic Drum Tower. Lily Chen, 28, in a sparkling white gown and tiara, checked her makeup in a mirror—and then looked up the Air Quality Index (AQI) on her smartphone.
Using data from the U.S. Embassy's air-pollution monitoring station, a popular website and app display air-quality information in real time. At that moment, just a few minutes after noon, the level of particulate air pollution was 96 on a scale of 500. That's comparatively tolerable for the capital, where the index exceeded 500, its nominal maximum, during the 2012-13 winter "airpocalypse." "We're lucky—we have blue sky for these photos," Chen says. "Otherwise we'd have to fix the sky with Photoshop."
Beijing has seen more bluish skies this year than in the first half of 2014, according to data from China's Ministry of Environmental Protection and analyzed by Greenpeace East Asia's Beijing office. The 189 cities for which Greenpeace crunched data showed an average drop of 16 percent in levels of PM 2.5—particulate matter less than 2.5 microns in diameter that can lodge in the lungs. Beijing's average PM 2.5 level dropped 15.6 percent, an improvement, though the World Health Organization says its air pollution on most days still greatly exceeds the level deemed safe. The city that reduced PM 2.5 the most—by 42 percent—is Baoji, in Shaanxi province, the heart of coal country.
China's urban air pollution is the result of heavy industry, power plants, and vehicle emissions. Particulate matter is the product of chemical reactions between other pollutants. It's difficult to pin the improved air quality on a single factor, but Greenpeace East Asia energy and climate campaigner Dong Liansai says "one of the most important trends is the reduction in coal burning."
Nationwide, coal consumption dropped 5 percent in four major industries—power, steelmaking, chemicals, and construction—in the first half of 2015 from the same period last year. The economic slowdown likely played a significant role, but it's not the whole story, Dong says. China has increased reliance on energy from non-fossil fuels. Wind, solar, and biofuel accounted for 2.3 percent of the total energy mix in 2014; nuclear made up 0.9 percent; and hydro, 8 percent, according to the United Nations. China's National Energy Plan has set a target of reducing coal's share of energy consumption from 66 percent last year to less than 62 percent by 2020.
In the past year, Beijing has shut down three of its four coal-fired power plants; the last is scheduled to close next year, and natural gas has taken coal's place. The city has restricted the number of new vehicles on the road using a license-plate lottery. Downturns in such energy-intensive industries as steel and glass, concentrated in the nearby areas of Hebei and Tianjin, have also improved regional air quality, says Song Ranping of World Resources Institute in Beijing.
"In the past we've seen the government try to reverse policies when a slowdown occurs," Song says. During the last recession, Beijing's emergency stimulus package allowed unprofitable heavy industries to stay afloat and keep polluting. Now the government appears willing to let some factories fail. Those that stay in business must meet stricter environmental targets, he says.
Not every major city saw improvement. Shanghai's PM 2.5 level rose 1.6 percent from the previous year. Of the 189 cities studied, 10 percent had rising readings of the pollutants.
"China has made big strides in its efforts to reduce the amount of carbon and other pollution that comes from burning coal," says Indiana University economist Anthony Liu, who's tracked the drop in sulfur dioxide and nitrogen dioxide, pollutants almost as toxic as PM 2.5. That's welcome news especially in Beijing, which will host the Winter Olympics in 2022.
The bottom line: China's efforts to reduce pollution by cutting coal consumption have produced moderately encouraging results.
Before it's here, it's on the Bloomberg Terminal.
LEARN MORE