Bill Ackman Amasses $5.6 Billion Stake in Oreo Maker Mondelez
Beth Jinks and Lindsey Rupp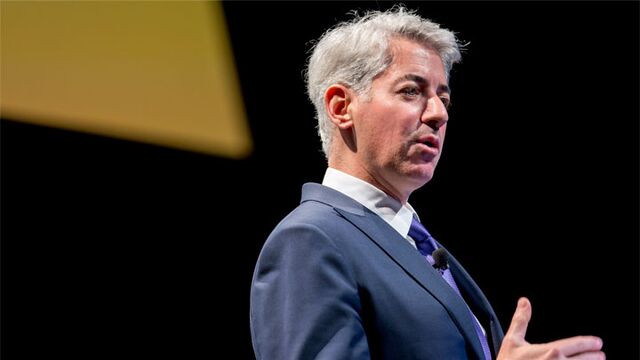 Billionaire Bill Ackman's hedge fund amassed a $5.6 billion stake in snack giant Mondelez International Inc., part of a push for consolidation in an industry hampered by slowing growth and a shift toward healthier eating.
The holding, which includes forward purchase contracts and call options, amounts to 7.5 percent of the producer of Oreo cookies and Wheat Thins, according to Ackman's firm, Pershing Square Capital Management.
Ackman's investment represents a bet that the U.S. food industry's acquisition streak will continue. H.J. Heinz Co. swallowed up Kraft Foods Group last month, with the backing of investment firm 3G Capital and Warren Buffett's Berkshire Hathaway Inc. Mondelez, which was part of Kraft until 2012, has been cited as a similar takeover candidate. But it's hard to tell how soon a deal like that would come together.
"It could be an acquisition target," said Erin Lash, an analyst at Morningstar Inc. in Chicago. "While we think while 3G and Berkshire have expressed interest in remaining a consolidator in the food space, we doubt a tie-up with Kraft Heinz would happen within a year or two."
Mondelez fended off another push for consolidation last year when activist Nelson Peltz lobbied for a merger with PepsiCo Inc. Peltz's firm, Trian Fund Management LP, agreed to drop the issue when he joined Mondelez's board. Since then, the snack company has been focused on bolstering its operations by cutting costs and shifting production overseas. That helped second-quarter profit top analysts' estimates, and Mondelez's stock was up 27 percent this year through Wednesday's close.
Small Gain
After a surge in early trading, the stock closed at $46.81 in New York, up just 1.1 percent. That may reflect skepticism that Mondelez can attract a buyer anytime soon. In a response to Ackman's move, the company said it would stay focused on its current game plan.
"We welcome Pershing Square as investors in our company," Mondelez said in a statement. "We'll continue to focus on executing our strategy and on delivering value for all our shareholders."
Ackman believes Mondelez's revenue should be growing faster and cutting costs more dramatically -- or sell itself to a rival, the Wall Street Journal reported on Wednesday. If Mondelez decides to pursue a sale, the newly formed Kraft Heinz could be a buyer, the newspaper said.
Kraft Heinz, based in Illinois, declined to comment.
3G and Buffett have become a potent force in driving mergers and cost cuts in the food business, leading to speculation about their next target.
Burger King
The Kraft transaction, which valued the macaroni-and-cheese maker at about $46 billion before net debt, was the biggest food deal on record. It surpassed Buffett and 3G Capital's takeover of Heinz for more than $23 billion in 2013. Berkshire also provided financing for 3G-owned Burger King Worldwide Inc.'s acquisition of Tim Hortons Inc. last year.
When it makes an acquisition, 3G is known for taking a close look at expenses. Kraft and Heinz are aiming to trim $1.5 billion in annual costs by the end of 2017, and the cutbacks have already begun.
The combined company rolled out policies aimed at curbing travel, electricity and even office supplies, according to a memo reviewed by Bloomberg News. The foodmaker has also begun eliminating jobs, and it even got rid of the free snacks from its offices, according to people familiar with the matter. Refrigerators that used to be stocked with Kraft treats were removed last month from the headquarters outside Chicago, the people said.
Kraft Split
Kraft became a takeover target after struggling with sluggish growth following its split from Mondelez in 2012. Its problems weren't unique: U.S. food companies have been slow to respond to changing tastes among consumers, who have been venturing away from traditional brands like Kraft's Oscar Mayer and Velveeta in search of organic and natural options.
The top 25 U.S. food and beverage companies missed out on about $18 billion in sales in the last five years as private-label producers and smaller firms have taken market share, according to Credit Suisse Group AG. That trend has driven a surge in mergers as large packaged-food companies have sought an entry into the organic market.
Nomad Holdings
Ackman, 49, has gotten involved in the food industry before. Pershing Square invested in Burger King and Nomad Holdings Ltd., the acquisition vehicle backed by entrepreneurs Martin E. Franklin and Noam Gottesman. Ackman also has been locked in a more than two-year battle with Herbalife Ltd., the maker of weight-loss shakes that he claims is a pyramid scheme. In that case, Pershing Square bet that the stock would decline.
If Mondelez were to be acquired by a 3G-backed Kraft, it would reverse a breakup that happened almost three years ago. When the companies split up in 2012, the idea to was have Mondelez tap international markets while Kraft focused on North America.
"There's an opportunity to take out more costs -- particularly if Kraft Heinz makes good on its aims," Lash said. "Mondelez needs to fall in line or risk being taken out."
(A previous version of the story was corrected to fix the time frame of Kraft's cost-cutting activities.)