politics
In Debate, Lindsey Graham Changes His Tune on Hillary Clinton
What a difference an election makes.
By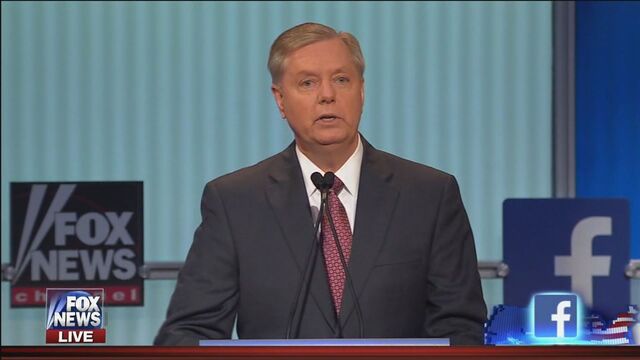 Republican presidential candidate Lindsey Graham had harsh words for Democratic front-runner Hillary Clinton during Thursday's Fox News "happy hour" debate. But he used to sing her praises. 
The South Carolina senator said he was "fluent in Clintonspeak," and offered up some translations.
"When Hillary Clinton tells you 'I've given you all the e-mails you need,' that means she hasn't," Graham said. He added that the former New York senator and former secretary of state "represents the third term of a failed presidency" and mocked her for saying that she and her husband were "flat broke" when Bill Clinton left the White House.
Graham's outburst represents just the latest turn in his relationship with the Democratic power couple. As a member of the U.S. House of Representatives in 1998, Graham was a member of the team of lawmakers that prosecuted then-President Bill Clinton's impeachment. The Senate rejected the charges and two years later, Hillary Clinton became a member of the U.S. Senate. In 2002, so did Graham.
For a time, bygones seemed to be bygones.
Graham and Clinton worked together on legislation to expand health care benefits for members of the armed forces. "Senator Clinton and I have been fortunate to have very good allies in this effort and Congress has stepped up to the plate to meet the health care needs of our Guard and Reserves," Graham said in a press release, one of a series of favorable comments about his former Senate colleague compiled by the pro-Clinton super-PAC Correct the Record. In 2011, he commended President Barack Obama's decision to make her a member of his Cabinet. "Secretary Clinton is a great choice to be our secretary of state," he said, telling the New York Times, "I think she's represented our nation well." 
Before it's here, it's on the Bloomberg Terminal.
LEARN MORE