IBM to Buy Merge for $1 Billion for Medical Imaging Tech
Alex Barinka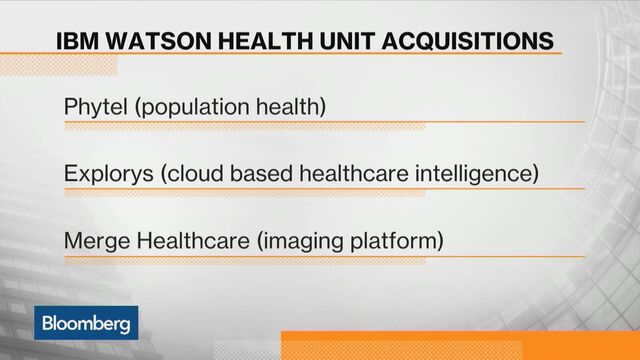 International Business Machines Corp. agreed to buy Merge Healthcare Inc. for $1 billion, to incorporate the medical company's imaging management platform with its Watson data analytics tool.
Merge's shareholders will receive $7.13 a share, a 32 percent premium to Wednesday's closing price. The all-cash deal, subject to regulatory review and approval from Merge's investors, is expected to close later this year, the companies said Thursday in a statement.
IBM is bolstering its health-care services business, centered around a new business unit called Watson Health Cloud. Finding new sources of revenue has become increasingly important as demand for older services and technology has waned, dragging down sales for 13 straight quarters.
If completed, the acquisition would be the third-biggest for Ginni Rometty since she became IBM's chief executive officer early in 2012, according to data compiled by Bloomberg. It falls behind the $2 billion takeover of cloud company SoftLayer Technologies Inc. in 2013 and the purchase of workforce technology provider Kenexa Corp. for $1.2 billion a year earlier.
The Merge acquisition includes the assumption of the health-care imaging company's debt, according to IBM spokesman Steve Tomasco.
Shares Climb
Merge's shares climbed 31 percent to $7.10 at the close in New York. IBM's stock fell 1 percent to $156.32.
Merge could receive a competing offer from a competitor for more than IBM's offer of $7.13 a share, Justin Lumiere, a strategist at Maxim Group, said in a note.
IBM has been expanding its health-care offerings through partnerships and smaller acquisitions. Last month, the company announced a partnership with CVS Health Corp. to test Watson on existing medical and pharmacy claims data to see if any trends emerge.
Merge's technology platforms are used at more than 7,500 U.S. health-care sites, according to the statement. The acquisition would give IBM an entry into those locations, as well as access to the medical images being managed.
There is still technological development to be done before Watson will be able to filter clinical and diagnostic imaging information gained through the deal, according to the statement.