Finland Told It Must Attract Immigrants to End Economic Decline
Raine Tiessalo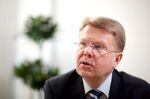 The new Finnish government's rejection of immigration will hamper its pledge to drag the economy out of its three-year recession, according to the chairman of EK, the country's main business group.
"Lack of competition in job market becomes a hurdle for growth," Jyri Hakamies said in an interview in Helsinki this week. There's a lack of skilled workers particularly in real estate management, restaurant and care industries, he said.
Immigration has become a hot topic in the Nordic nation after the nationalist the Finns Party became part of government for the first time this year amid record refugee flows in Europe. The party, headed by Foreign Minister Timo Soini, in May blocked a plan by its coalition partners to abolish a law that mandates priority to Finnish unemployed over people with similar skills from non-European Union countries.
Finland's economy has been shrinking for three years, hit by falling demand for its vaunted paper industry and the collapse of its consumer electronics industry, once led by Nokia Oyj. Now, sanctions on Russia are also weighing on trade with its eastern neighbor.
While unemployment has reached 10 percent, Statistics Finland estimates that about 80 percent of those without jobs are a poor match for the available jobs. They are either too old, don't have the appropriate education or skills or live in rural areas.
Retiring Workers
At the same time, some 10,000 people a year are exiting the jobs market as postwar baby-boomers retire and much smaller generations are left to fill the gap.
That's a sharp contrast to neighboring Sweden, where the job market is expected to expand by 33,500 people a year over the next decade, according to a report from Eurostat, the EU's statistics agency.
Nordea Bank AB, the biggest Nordic bank, in a report this week, said supporting "work-related" immigration should be part of a package to help Finland get back on its feet.
"It is hard to see Finland managing to prosper without the help of immigration," Nordea analysts said in the report.
Labor Minister Jari Lindstrom, a member of the Finns Party, has opposed work-related immigration calling it an employers' tool to keep wages down even as Prime Minister Juha Sipila is urging Finns to cut labor costs to revive competitiveness.
The government, elected in April, has pledged to create 110,000 jobs over the next four years to revive the economy. It's planning to foster job creation by cutting unemployment benefits, easing regulatory burdens on businesses, discouraging early retirement and pushing young people to enter the job market earlier.
A Facebook rant in July from one of the Finns Party's lawmakers against multiculturalism also sparked street protests to reveal broader fault lines in Finland.
"Our goal was that the laws restricting work-related immigration would have been scrapped, but the composition of the government had its effect," said Hakamies. "EK promotes a multicultural and international society."