Malaysia Links Reunion Part to MH370 in Clue to Jet Mystery
Shamim Adam, Alan Levin and David Fickling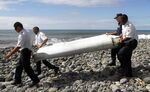 Malaysian Prime Minister Najib Razak confirmed that a jet part found on an island near Africa came from Malaysia Airlines' Flight 370, the first physical evidence from the jetliner that vanished 17 months ago.
Investigators "conclusively" linked the piece to the missing aircraft, Najib said Thursday. A French prosecutor stopped short of that assessment, saying only that officials have a "strong presumption" that the debris being studied in a government laboratory is from the doomed plane.
The so-called flaperon bore no identifying marks to show definitively that it was installed on the Boeing Co. 777's wing, said a U.S. official who wasn't authorized to speak about the probe. The working assumption is still that the piece came from MH370 because it's unquestionably a 777 component and there are no other missing jets of that type, the official said.
Najib's announcement validates authorities' hypothesis that the plane carrying 239 people crashed in a remote stretch of the Indian Ocean southwest of Australia. But the discovery of the piece thousands of kilometers away, on France's Reunion island, doesn't pinpoint where the aircraft took its fatal plunge in March 2014 -- or why it strayed so far from its intended Kuala Lumpur-to-Beijing route.
"Today, 515 days since the plane disappeared, it is with a heavy heart that I must tell you that an international team of experts have conclusively confirmed that the aircraft debris found on Reunion island is indeed from MH370," Najib said at an early-morning briefing in the Malaysian capital.
'Strong Presumption'
The inquiry into the longest search for a modern commercial jet is a multilayered effort involving French judicial authorities -- Reunion is French soil -- and the Malaysian government, as well as aviation accident investigators from the U.S., Australia and France. Specialists from Chicago-based Boeing also are participating.
Little more than an hour after Najib spoke, deputy Paris prosecutor Serge Mackowiak used the "strong presumption" characterization when meeting with reporters in Paris.
The wreckage appears to confirm that MH370 went down in the Indian Ocean, Australia Prime Minister Tony Abbott said in a radio interview Thursday. Australia, which has allocated about A$100 million ($74 million) toward the search, will keep looking for more debris, he said.
"We owe it to the families of the people lost on that plane to try to solve the mystery," Abbott said. "We owe it to the traveling public who obviously want to be confident of their safety in the air."
The Australian Transport Safety Bureau, which has led a search of nearly 60,000 square kilometers (23,000 square miles) of the seabed southwest of Australia, said it won't alter its plans.
"Our search area has always been defined based on analysis of the satellite communications, and so accordingly this will not lead to any changes," Daniel O'Malley, a spokesman for the bureau, said by phone from Canberra.
Ocean Currents
The region being scoured by sonar submersibles is about 3,800 kilometers (2,400 miles) southeast of Reunion. That's consistent with modeling done for the bureau on the way flotsam would have drifted since the crash.
A map published Wednesday on the bureau's website showed a range of predicted locations for debris that entered the water around the time of the MH370 crash close to where the seafloor search is taking place. The locations cover a stretch of mostly open ocean due west of Australia and between the latitudes of Madagascar and the Bay of Bengal.
A French defense ministry lab will conduct microscopic analyses and chemical studies of the flaperon for clues to the nature of the disaster. A suitcase found on Reunion, across the Indian Ocean from MH370's presumed resting place, is being evaluated separately.
French investigators have gotten technical information from Boeing and from Malaysian aviation officials, but are just starting their own review, the deputy Paris prosecutor Mackowiak said.
"We continue to share our technical expertise and analysis with civil investigating authorities," Boeing said in a statement.
'Additional Piece'
Lab evaluations of the flaperon will take weeks or months, and still may not shed much light on the reasons why the plane went into the sea, according to John Cox, a former airline pilot who is president of consultant Safety Operating Systems.
"I don't think there's going to be a great 'aha!' moment tomorrow that says we have figured it out," Cox said in a telephone interview. "This is going to be an additional piece of evidence, but I don't think in and of itself it's going to be conclusive."
The examination could include dimensional inspection of the flaperon, x-rays, fractography, electron microscopy, crystallography and metallography, as well as analysis of barnacles that attached to the piece while it drifted, according to Hans Weber, president of San Diego-based Tecop International Inc., a consultancy focusing on aviation safety and security.
"The investigation will tell a great deal about how the part broke off and how the airplane was configured when it crashed," Weber said.
In the absence of any wreckage, other theories had proliferated: Perhaps the jet landed in central Asia, or perhaps it didn't really double back across the Malaysian peninsula as radar tracks indicated. The discovery in the Indian Ocean settles that question.
"This is indeed a major breakthrough for us in resolving the disappearance of MH370," Malaysia Airlines said in a statement. "We expect and hope that there would be more objects to be found which would be able to help resolve this mystery."
Families' Pain
Most of those on board the doomed jet were Chinese nationals, and the hunt for any evidence -- week after week, month after month -- took a toll on grieving family members wondering about their loved ones' fate. Those emotions swam to the surface again as Najib prepared for his brief, televised remarks.
"We still want to ask them some key questions," Jiang Hui, a representative of a committee for Chinese families from MH370, said by phone. "Did the plane make a landing? Had all passengers boarded the plane?"
Any air trapped in the flaperon would have made it buoyant, floating at or just below the surface where ocean currents have the greatest effect, according to Cox, who participated in dozens of accident investigations in the U.S. while working as an airline pilot.
The piece is relatively large, suggesting it came from a low-speed crash that would leave a large debris field, Cox said. Some safety experts have theorized that MH370 was destroyed in a high-speed crash, because months of searching with ships using deep-sea sonar yielded no wreckage.