FBI Probing Security of Hillary Clinton's Private E-Mail Setup
Del Quentin Wilber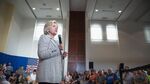 The Federal Bureau of Investigation is examining the security of former Secretary of State Hillary Clinton's personal e-mail system that she sometimes used to conduct government business, a U.S. official said.
The government started looking into the setup after the inspector general for the U.S. intelligence community referred the matter to the Justice Department to ensure the materials were properly stored, David Kendall, Clinton's personal attorney, said in a statement.
Kendall said Clinton, whose use of the private e-mail system in government service has prompted questions as she campaigns for the Democratic nomination for president, is actively cooperating.
Clinton, who served as secretary of State in the Obama administration from 2009 to 2013, isn't a target of the investigation, according to a U.S. official who requested anonymity because the information isn't public.
The FBI has contacted the company that set up the e-mail server and system at Clinton's home in Chappaqua, New York, seeking information as to its security, the official said. The agency also got in touch with Kendall about a thumb drive with copies of Clinton's e-mails, wanting assurances about the secure storage of that data.
Clinton "did not send nor receive any e-mails that were marked classified at the time," Nick Merrill, a campaign spokesman, said in a statement. "We want to ensure that appropriate procedures are followed as these e-mails are reviewed while not unduly delaying the release of her e-mails. We want that to happen as quickly and as transparently as possible."
The FBI's interest was first reported by the Washington Post.
The U.S. intelligence community's inspector general, Charles McCullough III, found that Clinton's personal e-mail account contained some information that should have been classified and transmitted over a secure network.
McCullough asked the FBI to review whether potentially classified material within Clinton's e-mails had been jeopardized during a State Department review of the documents, in preparation for releasing them publicly. He also raised concerns that "potentially hundreds" of e-mails containing information that may be classified could still exist on both Clinton's private server and the thumb drive in possession of her attorney.