Elon Musk Has a Production Problem
Musk is known for making the future come early. But somehow he's always behind schedule.
By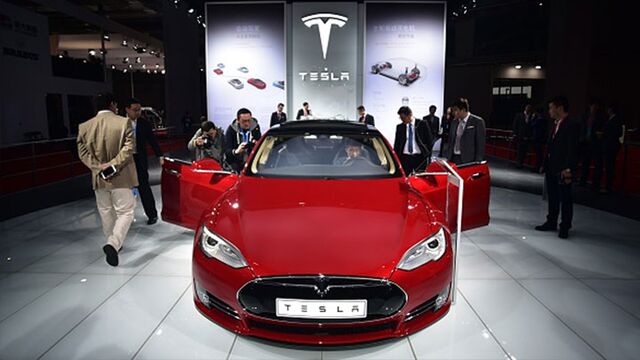 People like Tesla's electric cars so much, the factories can't crank them out fast enough. Most companies would love to be in such a position. But for Tesla, it's becoming a problem. 
CEO Elon Musk released Tesla's quarterly results today and gave an update on where the rapidly growing company is headed. Here are some areas of potential delay: 
Tesla has backed off its full-year forecast for vehicle sales. The company aims to deliver 50,000 to 55,000 vehicles this year. The previous target was for 55,000, without the lower range. 
The potential shortfall is due to possible delays around the company's space-age all-electric SUV, the Model X. That vehicle—which was originally supposed to go on sale in 2014—is slated to make its first deliveries in September, with rising production in the fourth quarter. Tesla warned that any delay caused by a single supplier could set the company back 800 vehicles a week. 
There's another twist: Tesla warned that the switch to Model X production could slow production of the company's flagship Model S sedan. 
Telsa Energy, the company's new battery storage unit, also seems to be bending its timeline. The company plans to start production "this quarter," with promises to ramp up in the fourth quarter and beyond. When it announced its new Powerwall storage batteries in May, Tesla said deliveries would start "this summer." Musk said the company is "basically sold out of what we could make in 2016."
Maybe these are small tweaks and investors should focus on the bigger picture. Maybe the company is sandbagging a little, limiting expectations so it can exceed them later. 
But this isn't a new problem for Musk. The man who revolutionized electric cars, private space travel, and rooftop solar power is notorious for overpromising on his timelines for industrywide disruption—almost as much as he's known for eventually succeeding. 
The question is whether these little tweaks will add up to impede his long-term goals, the ones on which the company's $34 billion market valuation is based. Musk wants to ramp up from selling 50,000 cars this year to 500,000 in 2020 after he releases his more affordable mass-market Tesla, the Model 3, which is (currently) scheduled to make its first deliveries by the end of 2017. 
"Going from here to 500,000 cars a year is a much smaller leap than what we've done in the last five years," Musk said in a conference call with investors. 
To reach that goal, Musk would need to roughly double production each year. Tesla now forecasts that production next year will average 1,600 to 1,800 cars a week (Model S and Model X combined), or roughly 83,200 to 93,600 a year.
That implies annual growth of 51 percent to 87 percent. Once again, impressive, but not quite on schedule.