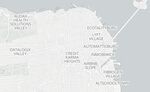 Here's an idea to drive longtime San Franciscans crazy: Rename all the roads in honor of tech companies, with the biggest thoroughfares going to major players like Lyft, Dropbox, and Airbnb.
That's what CartoDB's Sergio Álvarez Leiva has done in the fantastical, nauseating map "Startups Streets SF." The Next Web explains:
CartoDB has mashed up startup data from Crunchbase with the San Francisco Map to show how tech is found all around the city. The method for the map is simple: startups with major funding get bigger streets in relative  to where they are….

For example, Airbnb is located on 8th and Brannan street in the city, but is so large that it gets to occupy the bigger and busier 16th street. Dropbox is located in the SoMa neighborhood, but is the owner of main neighborhood thoroughfare Market Street.
Pan out to see newly rebranded neighborhoods such as Grouponwick, Change.orgtown, Credit Karma Heights, and (shudder) Audax Health Solutions Hills. Zoom in to explore an incredible wealth of tech-nerd references. For example, around Golden Gate Park (which somehow clings to its original name) are streets and avenues paying tribute to GrubShire, KlickEx, iPintoo, Groopt, PingPigeon, GlimpzIt, Prynt, Catzilla, and other honest-to-god, not-made-up companies.
Laugh now, but with Silicon Valley claiming road names like Hacker Way (Facebook), Oracle Parkway, and Infinite Loop (Apple), this could be the awful wave of the future.