pursuits
This $21,700 Land Rover Lookalike to Go on Sale in China
Bloomberg News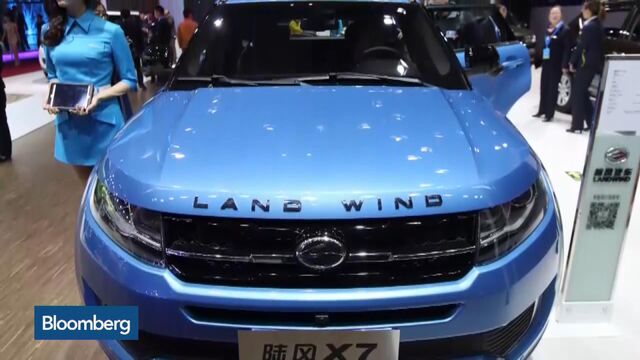 A sport utility vehicle that bears an uncanny resemblance to the Land Rover Evoque will go on sale in China this week at a third of its sticker price.
More than 5,500 people have put down deposits for the Landwind X7, which will be available in dealerships from Thursday at a starting price of 135,000 yuan ($21,700). The Evoque, which is Jaguar Land Rover's best-selling model worldwide, retails from 398,000 yuan. Both models feature similar broad fenders, recessed door panels and a sloping roof.
Jaguar Land Rover Chief Executive Officer Ralf Speth railed at what he called the the rise of Chinese "copy-and-paste" jobs earlier this year at the Shanghai auto show, where the Landwind X7 was also on display. The carmaker said last year it was investigating whether Landwind copied design elements of the Evoque.

"Customers say the car is good-looking, like the Evoque," Zhu Jianfeng, a sales manager at Ninghai Landwind Specialty Store, a dealership that stocks the X7, said by phone. "The price is attractive too."
The concern is that a cheap lookalike will make it harder for Jaguar Land Rover to command a premium for its model, especially as automakers step up discounting and offer cheaper variants to bolster sales in a softening market. The British premium carmaker, owned by India's Tata Motors Ltd., has cut its prices and sales targets in China as deliveries there slumped 27 percent this year through June.
Intellectual Property
Asked to comment on the X7, Jaguar Land Rover said it takes protecting its intellectual property "very seriously," declining to go into specifics. Jiangling Motors Co., which owns Landwind, referred questions about the X7 to its unit. Calls to Landwind's main line and customer service hotline went unanswered.
Some say the Landwind X7 may even turn out to help Evoque sales.
"Somehow, it helps Land Rover to promote the Evoque," said John Zeng, a Shanghai-based managing director at LMC Automotive, an industry researcher. "There are more media reports and consumers understand that the X7 is a copycat."
The X7 will go on sale a day before Tata Motors is scheduled to report quarterly results. Net income will probably fall by 40 percent in the April to June period, according to the average of analyst estimates compiled by Bloomberg.
— With assistance by Alexandra Ho
Before it's here, it's on the Bloomberg Terminal.
LEARN MORE