The Trump-Less Extravaganza the Other GOP Contenders Had Been Hoping For
The billionaire's absence at the Voters First Forum gave the other candidates a chance to shine, if only for a moment.
By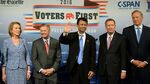 Donald Trump, who spent much of the past week at a golf course in Scotland that bears his name, wearing "Make America Great Again" ball caps of different colors, did not attend Monday night's Voters First Forum at St. Anselm College in Manchester, New Hampshire. He had not much appreciated coverage of his campaign in the New Hampshire Union Leader, the forum's sponsor. But his impact on the gathering was felt all the same. 
Three minutes after the event began, his press shop blasted out an e-mail notice titled, "Donald J. Trump is Definitive First Place Candidate in New Hampshire." And Fox News, the network hosting the first Republican primary debate, to be held Thursday in Cleveland, blew more wind in Trump's sails by releasing new poll results, which give the billionaire a comfortable lead. But for two hours on Monday night, 14 Republican presidential contenders tried to bask in spotlights that had a little more room to give, since Trump was not there. 
And yet, Trump's name never even came up at the forum, save for a quick mention by the moderator—Jack Heath, the host of "New Hampshire Today"—of a certain "candidate who isn't here."
For the Republican presidential hopefuls who did take part—11 on stage, and three senators who had opted to stay in Washington so they could vote to defund Planned Parenthood and were beamed in via satellite—the forum was a chance to try out a message, to get in a little practice before the more selective primary debate Thursday night.
For forum's sponsors—the Union Leader, the Gazette of Cedar Rapids, Iowa, and the Post and Courier of Charleston, South Carolina—Monday's cattle call gave an opportunity to get their early-primary states in on the action, and get a whiff of that much-vaunted new-candidate smell. It was organized in response to the decision, by Fox News, to limit the number of candidates on the Thursday main stage to 10. 
Call it the SAG Awards equivalent to the first debate's Academy Awards: an early indicator of success. Not that the format allowed for much actual parley, as Bloomberg's Terrence Dopp reported. This was a strange balancing act, a cheerleading team-exercise against Planned Parenthood and Obamacare, and in favor of more muscular immigration policy and national security, that was somehow supposed to leave space for candidates to distinguish themselves all without deigning to distinguish themselves against Trump.
But drawing opposition with the Democratic presidential front-runner, that was easy. Former Hewlett-Packard CEO Carly Fiorina said, in bellicose terms, "In order to beat Hillary Clinton, we have to have a nominee on our side who is going to throw every punch."
The proceedings had the feel of Republican speed dating: one-on-one interviews with Heath, on two high-backed wooden stools, each arrested when a young blonde woman moved from the wings of the stage toward the candidate, to let them know the time was up. (Unfortunately, Senators Rand Paul, Ted Cruz, and Marco Rubio seemed unable to see this human cue through the video feed, and had a moment's delay on their end. Or perhaps this was fortunate: it gave at least Rubio a few extra seconds to get in his pitch.) After beauty pageant-like introductions by a floating woman's voice came a shorter question session, and a chance to "say what you'd like" to the American people. Candidates were never given the opportunity for a true head-to-head, for hand-to-hand engagement, and yet they tried to differentiate themselves all the same.
Wisconsin Governor Scott Walker boasted of his move to fight collective bargaining. He spoke—to some, ironically—of taking money from "elite union bosses," and redistributing the wealth.
Fiorina railed against "festering problems" all around the country, against the "political class," against the "status quo." She told her trajectory of going from a "little secretary" to running a powerful American company—"my story is only possible in America"—so quickly you might have thought she was adding a rap verse to the Barenaked Ladies's "One Week." She dissed Hillary Clinton's "fiction," her lies, and she quoted Margaret Thatcher.
Former Florida Governor Jeb Bush, who is second behind Trump in some polls, seemed to have particular opportunity on a Trump-less stage. He lamented the rise of the Islamic State, whose armies produce "a hundred thousand tweets a day, apparently," yet said he was "not sure" that ground troops are necessary. He worked to distance himself from his brother, former President George W. Bush, and seemed to back away from his previous support of Common Core by declaring that "the federal government should have no role in the creation of standards."
Rubio more or less quoted the lede of an article in TechCrunch in March, when he spoke of the changing economy; of Airbnb, which owns no real estate; of Uber, which owns no vehicles. "The way forward in the 21st century," he said. Paul spoke of national security, due process, the need to "individualize suspicions." Louisiana Governor Bobby Jindal cried for an end to "hyphenated Americans." New Jersey Governor Chris Christie spoke of his work fighting drug addiction—"a disease," he hammers home—in his state. Former Texas Governor Rick Perry spoke of securing the border. Ohio Governor John Kasich spoke of his fiscal know-how, saying, "I've only written about 16 budgets in my lifetime." Roundly, everyone agreed they knew what was good for the American worker, for American manufacturing. 
In all, it was all a bit of a jumble, an exhausting tirade of orchestrated opening statements, more a getting-to-know-you than a reality-show style elimination contest. One way to tell the candidates apart was by their sartorial decisions: I counted five blue ties (Bush, Jindal, Walker, former New York Governor George Pataki, and Cruz), three red (retired neurosurgeon Ben Carson, former Pennsylvania Senator Rick Santorum, Paul), three pink (South Carolina Senator Lindsey Graham, Perry, and Kasich), and two burgundy (Christie and Rubio). And then, of course, Fiorina, the only woman, in a powder blue suit. (Former Arkansas Governor Mike Huckabee, like Trump, declined to take part, and former Virginia Governor Jim Gilmore announced his candidacy after the deadline for forum entry had passed.) 
Gauging from the audience laugh-o-meter, Graham may have been the victor of the evening, getting chuckles for lines like "I'm fluent in Clinton-speak." He elaborated: "When Bill says, 'I didn't have sex with that woman,' he did." And likewise, when Hillary Clinton says, "'Trust me, you have all the e-mails you need,' we haven't even scratched the surface."
He also spoke about world leaders like they were members of his Little League team, either that or the rascals about to beat up his own lil tyke: "We're being walked all over," he said, sounding a tad like his nemesis, the Donald. "To Radical Islam: whatever it takes, as long as it takes, to defeat you." 
Yet, as well as Graham did Monday, he may not make it onto the debate stage in three days. Nor is Perry's placement guaranteed. (These two, like Jindal, Santorum, Fiorina, and Pataki, based on the latest polls, may not make it.)
Perry did shine, offering perhaps the brightest moment of the broadly civil forum, when he was asked which government agencies he would cut as president.
"I've heard that one before," replied Perry, who largely saw his hopes of securing the Republican nomination dashed in 2012 when he famously forgot the three agencies he'd cut.
For better and worse, the GOP field exhaled in the knowledge that Trump—at least for one night—wouldn't be there to steal attention away from them.