The Trump-Less Extravaganza the Other GOP Contenders Had Been Hoping For
The billionaire's absence at the Voters First Forum gave the other candidates a chance to shine, if only for a moment.
By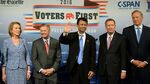 Donald Trump, who spent much of the past week at a golf course in Scotland that bears his name, wearing "Make America Great Again" ball caps of different colors, did not attend Monday night's Voters First Forum at St. Anselm College in Manchester, New Hampshire. He had not much appreciated coverage of his campaign in the New Hampshire Union Leader, the forum's sponsor. But his impact on the gathering was felt all the same.