South African Archbishop Desmond Tutu Discharged From Hospital
Hilton Shone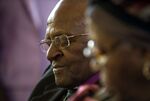 South African Archbishop Desmond Tutu was discharged from a hospital in Cape Town Tuesday after undergoing treatment for a persistent infection, the Desmond and Leah Tutu Legacy Foundation said.
The infection was a consequence of treatment for prostate cancer that Tutu has received over the past 18 years, the foundation said in an e-mailed statement. The cancer itself was well under control, his daughter, Mpho, was cited as saying in the statement.
Tutu, 83, won the 1984 Nobel Peace Prize for his opposition to white-minority rule in South Africa, which ended a decade later. While retired, the Anglican archbishop remains an outspoken champion on issues ranging from human rights to justice and equality.
He was hospitalized on July 14 with the infection and released a week later. He was readmitted July 28.