Republicans Divided on Shutdown Tactics to Defund Planned Parenthood
While numerous Republicans advocate using a government shutdown as a political weapon, leaders and vulnerable senators are reluctant to do so.
By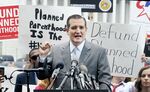 One day after Democrats filibustered a GOP bill to strip the roughly $500 million in federal funds that Planned Parenthood receives annually, Senate Republicans were torn over whether to threaten a government shutdown in order to defund the women's health services provider.  
Arizona Senator John McCain said he supports attaching a provision to defund Planned Parenthood in the upcoming "continuing resolution" to keep the government running once funding expires on September 30. He said Americans are "appalled" by recent videos showing Planned Parenthood officials discussing fees for aborted fetal tissue, which the groups says was for medical research. "I support having it on the CR," he said Tuesday, adding that he doesn't know if it would risk a shutdown.
"Yeah, I would support that," Oklahoma Senator James Inhofe told Bloomberg. "I would support anything we could to [defund Planned Parenthood]. What is happening out there is pretty deplorable." Like McCain, Inhofe said he wasn't worried about a shutdown. "I just don't buy that."
The dynamic is eerily familiar to what occurred two years ago prior to the 16-day shutdown pursued in a failed attempt to defund Obamacare in which an energized conservative base, an upcoming government funding deadline and activists demanding scorched-earth tactics, and a swath of Republican leaders who insisted they don't want to shutdown came together to halt government in its tracks. This time around, the situation is accentuated by a presidential nominating contest, and front-runner Donald Trump, as well as Texas Senator Ted Cruz want the Republican-led Congress to do what it takes to defund Planned Parenthood, even if those measures lead to a shutdown.
"It's hard to imagine the president will sign anything that has that kind of rider on it. And it's hard to imagine that our focus would be to shut down the government," said Missouri's Roy Blunt, the fifth-ranking Republican senator. But will leadership pursue the strategy? "Oh, I don't know," he said.
Wyoming Senator John Barrasso, the fourth-ranking Republican, told Bloomberg "that's a long way from now," before slipping into a closed-door meeting.
The issue poses a stark choice for Cruz's three fellow Republican senators who are running for president: Florida's Marco Rubio, Kentucky's Rand Paul and South Carolina's Lindsey Graham.
Meanwhile, some Republicans facing re-election urged their party not to risk a shutdown.
"I certainly do not want to play any kind of shutdown politics whatsoever," Wisconsin Senator Ron Johnson told Bloomberg. "I think the issue that has been revealed by these horrendous videos ... we should be shining a spotlight on exactly what kind of organization Planned Parenthood is."
New Hampshire Senator Kelly Ayotte called for a "responsible" agreement to fund the government given that 60 votes are required in the Senate, adding: "I think that we should ensure that we do not have a government shutdown."
Some newly elected Republicans are keeping their powder dry. Montana Senator Steve Daines suggested the idea was on the table, saying he's "looking at all the possible options" to "defund an organization that is selling baby parts." (Planned Parenthood strenuously denies that it was illegally selling fetal tissue and says its officials were discussing reimbursements for the purpose of medical research.)
Louisiana Senator Bill Cassidy called it a "process question" that he hadn't given much thought to. "The videos are pretty horrific," he said, adding that the issue has rattled his constituents. North Carolina Senator Thom Tillis said he didn't want to discuss how to handle government funding yet but "talk to me in a month."
Senate Majority Leader Mitch McConnell, a Kentucky Republican, reiterated Tuesday that there'll be "no more government shutdowns" and that it'll be avoided "through negotiation—we have divided government." He sidestepped a question at his weekly news conference about whether he'd consider attaching a measure to defund Planned Parenthood to government funding, saying only that committees will "engage in vigorous oversight" of the group and that "the investigation has just begun."
New York Senator Chuck Schumer, a Democratic leader, made clear that his party would filibuster any bill to defund Planned Parenthood, warning that "Republicans are knowingly putting us on a path to shut down the government" if they pursue the strategy.
"Haven't they learned? This is a repeat of what they tried to do in 2013 with [the Affordable Care Act]. It just isn't going to work," Schumer said Tuesday. "You can't hold the entire government hostage to make your ideological point."