Puerto Rico Debt-Crisis Grows as Island Defaults, Conserves Cash
Michelle Kaske and Elizabeth Campbell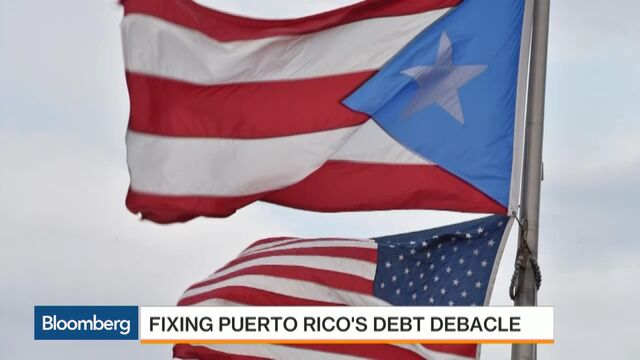 Puerto Rico's debt crisis escalated as it suspended deposits into a fund that pays its general-obligation bonds and one of its agencies defaulted for the first time, jeopardizing the cash-strapped government's ability to raise money.
The events underscore the risk to investors as the island is pushed to the brink from years of borrowing to cover budget deficits. Governor Alejandro Garcia Padilla is seeking to restructure Puerto Rico's $72 billion of debt, saying bondholders need to share in the commonwealth's sacrifices.
Struggling to conserve cash, Puerto Rico temporarily halted monthly transfers into a fund that pays down $13 billion of general-obligation debt, it said in a regulatory filing late Monday. That came after its Public Finance Corp. made only $628,000 of a $58 million debt-service payment because the legislature didn't appropriate enough money.
"They have taken the first move to commit financial suicide," Richard Larkin, director of credit analysis at Herbert J Sims & Co. in Boca Raton, Florida, said in an e-mail. "It shows the leadership's total disregard for maintaining Puerto Rico's creditworthiness by failing to repay debts."
Record Restructuring
The default highlights the deepening pressure on the island, where officials are pushing for what may be the biggest restructuring ever in the municipal market. Puerto Rico bond prices have tumbled amid speculation that it won't be able to repay what it owes as its economy stagnates and residents leave for the U.S. mainland.
Puerto Rico has more debt than any state but California and New York, and U.S. investors for years snapped up its bonds because they're tax-exempt and offered higher yields than other securities. Its ability to keep borrowing has receded as investors demand extra compensation for the risk.
Puerto Rico general obligations maturing in July 2035 were little changed at an average of 69 cents on the dollar Tuesday to yield 12.2 percent, after earlier slipping to the lowest price since June 30, according to data compiled by Bloomberg.
The decision to default may add to the cash crunch by impeding Puerto Rico's ability to raise funds, Standard & Poor's said in a statement late Monday. Without such financing, the government may run out of money in the months ahead, the ratings company said.
Presaging Defaults
"We believe the default signals severe liquidity distress, whereby Puerto Rico must now choose among which financial obligations it can honor, and presages other possible defaults as liquidity becomes further constrained during the next few months," S&P said in the statement.
The $1 billion of bonds outstanding from its Finance Corp. have some of the weakest investor protections because they're backed only by the legislature's willingness to allocate the funds. General obligations are given first priority under the commonwealth's constitution, while other debt is backed by tax revenue.
The lack of funds will leave the commonwealth forced to chose which debt it should continue to pay, said Peter Hayes, who helps oversee $116 billion of munis at BlackRock Inc., the world's biggest money manager.
Liqudity Issue
"It says to investors that they really are insolvent. There really is a liquidity issue," said Hayes, head of municipal debt at the New York-based firm. "They're not going to be able to make all their payments and they may pick and choose."
Puerto Rico is set to propose a plan by Sept. 1 for putting off payments on some of its debt. The government's officials have yet to say which bondholders may be affected or by how much.
The Finance Corp. bonds represented a small share of the $597 million of interest and principal payments that were due by the end of business Monday. The island's debt bills will ease until December and January, when a combined $1.4 billion is due.
Melba Acosta, the president of Puerto Rico's Government Development Bank, said the commonwealth was forced to balance its obligations to Finance Corp. bondholders against the need to provide key services to residents.
"This was a decision that reflects the serious concerns about the commonwealth's liquidity in combination with the balance of obligations to our creditors and the equally important obligations to the people of Puerto Rico," she said in a statement.
Transfers Halt
The Development Bank said in a separate, one-paragraph notice to investors that deposits to its general-obligation debt fund have been "temporarily suspended."
Some investors, such as OppenheimerFunds Inc., plan to fight Puerto Rico for what they are owed. Court challenges could delay any proposed restructuring.
"We will vigorously defend the terms of the bond indentures," Ray Pellecchia, a spokesman in New York for OppenheimerFunds, said in an e-mail. The firm held about $4.6 billion of Puerto Rico securities at the end of May, according to Morningstar Inc.
How much investors stand to lose is a matter of speculation. Some bondholders may recover as little as 35 percent of what they're owed, Moody's Investors Service said in a July 22 report. General-obligation bondholders could recover as much as 80 percent, according to the company.
"Absent some strong growth that we don't foresee, they're going to have to restructure their debt," said Guy Davidson, head of munis in New York at AllianceBernstein Holding LP, which manages $32 billion in state and local debt. "The only real question is how much that's borne across all the debt holders."