Neiman Marcus Files for IPO Less Than Two Years After Sale
Leslie Picker and Lindsey Rupp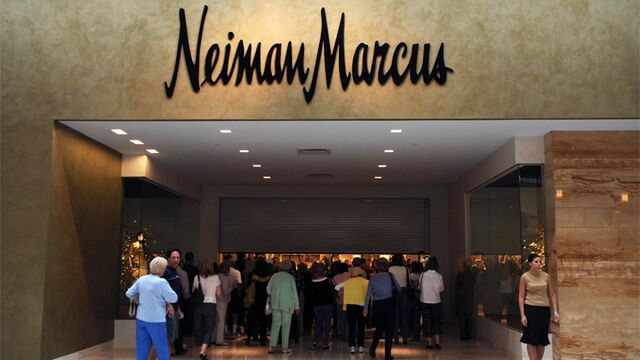 Neiman Marcus Group Inc., the century-old luxury department-store chain that was acquired two years ago in a $6 billion leveraged buyout, is already planning to go public.
The company, owned by Ares Management LLC and the Canada Pension Plan Investment Board, filed for an $100 million initial public offering. That's typically a placeholder amount used to calculate registration fees, and it may change. Dallas-based Neiman Marcus plans to use proceeds from the IPO to repay debt.
Consumer IPOs have been a bright spot this year, raising almost $8.8 billion -- more than any other industry. Lower unemployment and stronger buyer sentiment may help boost sales at department stores, as should a drop in cotton prices, according to Bloomberg Intelligence analyst Poonam Goyal. Neiman, the eighth-largest U.S. department-store chain, may figure the timing is right to fetch a good valuation, she said.
"They're probably taking advantage of high equity prices," Goyal said. "Luxury is strong because the high-end consumer is strong. The stock market is very strong, and that's a big indicator for luxury sales."
The company posted $4.8 billion in revenue last year, according to a regulatory filing Tuesday. Total debt amounted to $4.7 billion as of May 2. Women account for 79 percent of its customer base, and 38 percent of its customers have a median household income greater than $200,000, the filing shows.
Nordstrom, Saks
Neiman Marcus's competitors include Nordstrom Inc. and the Macy's Inc.-owned Bloomingdale's chain, as well as Hudson's Bay Co.'s Saks Fifth Avenue and Lord & Taylor.
While some economic trends may help retailers, the industry remains challenging. Mall traffic has declined, and shoppers are looking to online retailers for lower prices. That's prompted retailers like Nordstrom to rely more heavily on their discount offshoot chains and invest in e-commerce.
Competition from so-called fast-fashion retailers also is weighing on department stores, said Matt McGinley, an analyst at Evercore ISI.
"In general, operating a department store is a tough business," he said.
Neiman Marcus was founded in Dallas 1907 by Herbert Marcus, his sister and her husband A.L. Neiman. Marcus bought out the Neimans in 1928, and the company was run by the family until 1988. It was publicly traded from 1987 to 2005. Neiman Marcus also owns the Bergdorf Goodman luxury stores and the offprice Last Call clearance centers.
The retailer previously filed to go public in June 2013, before owners TPG and Warburg Pincus sold it to Ares and CPPIB. In 2018, Neiman Marcus plans to debut in Manhattan at the $20 billion retail complex known as Shops at Hudson Yards.
Neiman Marcus didn't list any underwriters in the filing.