Hugo Boss Second-Quarter Sales Beat Estimates on New Stores
Aaron Ricadela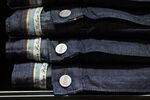 Hugo Boss AG sales had their biggest quarterly gain in more than two years after the fashion label added more stores to expand its own retail network and benefited from favorable currency shifts.
Sales rose 16 percent to 647.1 million euros ($708 million) in the second quarter, the Metzingen, Germany based-company said in a statement Tuesday. That topped the 628.4 million-euro average estimate of analysts surveyed by Bloomberg. The company changed its forecast for full-year retail same-store sales to a "mid-single digit" increase from low single digits previously.
Chief Executive Claus-Dietrich Lahrs is opening more stores and boutique departments at retailers while benefiting from a modest recovery in European apparel spending to recover from a lower-than-expected first-quarter profit. The euro's weakness is also boosting the value of sales from the U.S. and China when they're translated into Hugo Boss's home currency.
"The first quarter was likely the toughest and we expect an improvement from the second quarter onward," said Fred Speirs, an analyst at UBS in London who recommends buying the shares. He cited improvement in the German, French and Benelux markets.
Earnings before interest, taxes, depreciation and amortization and excluding special items rose 12 percent to 123.3 million euros, compared with analysts' 121.4 million-euro average estimate.