Flight 370 'Social Media Hype' Hurting Malaysian Airlines Demand
David Fickling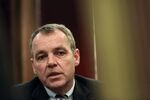 Media coverage of the search for missing Flight 370 is hurting ticket sales at Malaysia Airlines, Chief Executive Officer Christoph Mueller said.
"Particularly pronounced" coverage of the search for MH370, which is thought to have crashed in the Indian Ocean off Australia's western coast in March 2014, "correlates unfortunately but very positively with our demand figures" in Australia, Mueller told a conference in Sydney Tuesday. "It is fueled in most cases by social media hype."
On Wednesday, investigators in France will begin testing a wing part from a Boeing Co. 777 -- the same type as the missing plane -- that was found on Reunion island, a French territory east of Africa. If the part, known as a flaperon, is confirmed to be from Flight 370, it will be the first physical remnant recovered from the aircraft. The Paris prosecutor's office said a suitcase discovered near the part also will be studied.
"We have been always cooperating with the investigators since day one, and so do we today," Mueller said. He declined to comment further on Malaysia Air's involvement in the investigation in Paris or specify what assistance the carrier was providing.
Flight 370 was en route to Beijing from Kuala Lumpur in March 2014 when it vanished without a trace with 239 people on board. By analyzing satellite signals, investigators concluded the jet turned back over the Indian Ocean.
The wreckage that washed ashore in Reunion is the strongest clue yet in a search that is now the longest ever for a missing commercial jet. Ships using deep-sea sonar have already scanned more than 55,000 square kilometers (21,325 square miles) of the seabed southwest of Australia.
Demand at Malaysia Air plunged last year after the disasters with Flight 370 and Flight 17, which crashed over Ukraine in July 2014 in an accident the U.S. and other countries attribute to a missile attack from pro-Russian separatists.
It's now wholly owned by Malaysia's sovereign wealth fund Khazanah Nasional Bhd., which took the carrier private in a 1.38 billion-ringgit ($357 million) buyout and has committed to invest 6 billion ringgit to restructure the airline.
The airline will restart under a new legal identity on Sept. 1, Mueller said Tuesday. It will cut expenses to a level where the main carrier is competitive with low-cost rivals such as AirAsia Bhd., Singapore Airlines Ltd.'s Scoot Pte. and Tiger Airways Holdings Ltd., he said.
"We will embark as a new carrier," he said. It's "a complete reset of the system."