Madoff Employee Must Pay $170 Billion, Can Keep Stamps
Bob Van Voris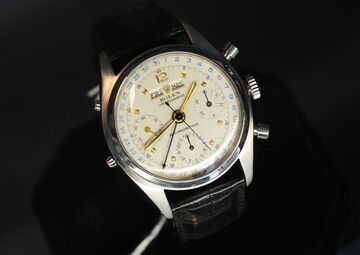 The first employee hired by Bernard Madoff has agreed he owes the government a Rolex watch, a painting by the comedian Red Skelton and $170 billion cash.
Irwin Lipkin, 77, is scheduled to be sentenced Wednesday for conspiracy and making false statements in employment records. As with Madoff and more than a dozen others convicted in the scandal, the government is also seeking to recover the full $170 billion proceeds of the fraud from Lipkin.
Prosecutors filed a forfeiture agreement Monday in which Lipkin, who said he retired from Bernard L. Madoff Investment Securities LLC in 1998, agreed to a judgment for the cash forfeiture, which is about the same as the annual gross domestic product of Iowa.
Under the agreement, Lipkin will also give up a home in Del Ray Beach, Florida, some stocks, an IRA account, the Rolex oyster bracelet watch and the painting, titled "He's House Trained." Lipkin may keep a house in Paramus, New Jersey, a ruby ring, a diamond ring, a stamp collection, and a second Skelton painting, "Choo Choo Freddie."
The forfeiture agreement must be signed by U.S. District Judge Laura Taylor Swain before it can take effect.
As part of a plea agreement, Lipkin may be sentenced to as long as 10 years in prison. Prosecutors have agreed that's too long, though they haven't specified the term of imprisonment they seek. Lipkin, citing age and fragile health, as well as his lack of knowledge of the Madoff fraud, has asked Swain to sentence him to probation.
Lipkin claims he was fooled by Madoff and is one of the con man's many victims. His lawyer, Richard Galler, didn't immediately respond after regular business hours to phone and e-mail messages seeking comment on the forfeiture agreement,
Skelton, an early television star, was known for his oil paintings of clowns. He died in 1997.
Madoff admitted to federal agents in December 2008 that his company was a sham. He pleaded guilty to 11 counts and was sentenced to 150 years in prison, though he claimed all along that he worked alone and refused to implicate anyone else.
The case is U.S. v. Lipkin, 10-cr-00228, U.S. District Court, Southern District of New York (Manhattan).
(An earlier version of this story corrected a missing first name.)
Before it's here, it's on the Bloomberg Terminal.
LEARN MORE