Disney Falls as Revenue Misses, Cable Profit Outlook Darkens
Christopher Palmeri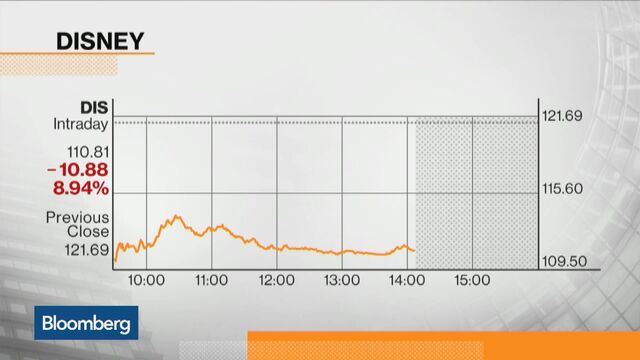 Walt Disney Co. fell the most in four years after posting third-quarter sales that fell short of analysts' estimates and cutting its forecast for cable-TV profit.
Disney, which had been the top-performing stock in the Dow Jones Industrial Average this year, said operating income will be reduced by $500 million next year as a result of the strong dollar. The stock slid 8.4 percent to $111.45 at 9:35 a.m. in New York, and dropped as low as $109.50 in the biggest intraday decline since August 2011.
The company is facing two challenges: fewer subscribers at cable networks such as ESPN, its biggest business, and foreign exchange losses from the strong dollar that are cutting results for both cable TV and international theme parks. The warning unsettled investors accustomed to stellar sales and profit from the Burbank, California-based company.
"Investors have become increasingly concerned about what kind of growth, if any, they can count on for ESPN going forward," said Paul Sweeney, a Bloomberg Intelligence analyst. "This guidance cut will not allay any of those fears."
ESPN is wrestling with a shrinking subscriber base and rising program costs. The network's pay-TV customers declined
4.3 percent to 94.6 million last year from 98.8 million in 2012, according to SNL Kagan data.
Disney expects affiliate revenue from pay-TV providers like Comcast Corp. to fall short of previous forecasts, Chief Financial Officer Christine McCarthy said Tuesday on a conference call with investors. That, along with foreign exchange losses, will limit cable profit growth, she said.
"The strength of the U.S. dollar versus a number of key foreign currencies is expected to adversely impact our operating income in 2016 by approximately $500 million," McCarthy said.
Cable Outlook
That's led Disney to cut its forecast for cable profit, suggesting the company will struggle to boost earnings in that division next year. For fiscal 2013 to 2016, Disney had promised profit growth in the high-single-digit range. Now, with just five quarters to go, the company expects a mid-single-digit gain for the division over that time frame.
Revenue for the third quarter ended June 27, while up 5.1 percent to $13.1 billion, missed analysts' forecasts of $13.2 billion. Disney, the world's largest entertainment company, posted third-quarter earnings of $1.45 a share, excluding items, according to a statement Tuesday. That beat analysts' forecasts of $1.41.
Heading into Tuesday's report, Disney had an enviable record of beating forecasts. It's been two years since revenue missed analysts' estimates, according to data compiled by Bloomberg.
Park Profit
Income declined at the company's international theme parks because of higher costs at Disneyland Paris and lower attendance in Hong Kong. Including domestic parks, the division posted a 4 percent gain in revenue to $4.13 billion, while profit increased 9 percent to $922 million, the company said. Resorts are Disney's second-largest business.
Operating income at Disney's TV networks division grew 4 percent to $2.38 billion million, led by domestic networks such as the Disney channels, ABC Family and ESPN. Earnings at cable networks rose 7 percent to $2.08 billion. Broadcaster ABC's profit tumbled 15 percent because of higher program costs and lower advertising revenue.
Mickey Ears
Profits in consumer products, from licensing Disney characters such Mickey Mouse and Iron Man to toymakers and other manufacturers, grew 27 percent to $348 million. Revenue expanded 6 percent to $954 million.
The company's third quarter included theatrical results from "Age of Ultron," the second-highest-grossing domestic film this year, as well as "Cinderella," a live-action remake that has taken in almost $540 million worldwide, according to Box Office Mojo.
Studio revenue rose 13 percent to $2.04 billion, while profit increased 15 percent to $472 million.
The stock advanced 0.5 percent to $121.69 at the close in New York and has gained 29 percent this year, to lead the Dow Jones Industrial Average in 2015.