BMW Says Chinese Slowdown May Force It to Revise Forecast
Elisabeth Behrmann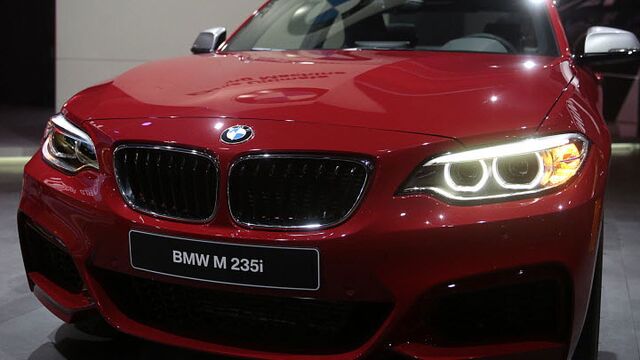 BMW AG said slowing sales in China may force it to revise this year's profitability goals, challenging new Chief Executive Officer Harald Krueger as he seeks to defend his lead in the global luxury-car industry.
Earnings before interest and taxes from automaking are still expected at 8 percent to 10 percent of sales, though "if conditions on the Chinese market become more challenging, we cannot rule out a possible effect" on the forecast, the Munich-based manufacturer said Tuesday.
BMW has cut production this year by 16,000 cars in China, its biggest market, Chief Financial Officer Friedrich Eichiner said on Tuesday. After a stock market rout discouraged customers from making large purchases, those still buying are demanding bigger price reductions, Eichiner said. Carmakers' sales in China may drop in 2015 for the first time since 1998, Ford Motor Co. said in late July.
"BMW has been bitten the most by the Chinese slowdown," Michael Raab, a Frankfurt-based analyst at Kepler Cheuvreux, said in a note. "BMW missed market expectations on most of its key metrics."
The second-quarter margin on automaking fell short of analysts' expectations because of a combination of the aging 7-Series sedan, due to be refreshed this year, and slowing growth in China, Raab said. The company's margin narrowed to 8.4 percent, the lowest level since 2009, compared with 11.7 percent last year.
BMW's margin trailed Mercedes-Benz and Audi, which reported respective returns on sales of 10.5 percent and 9.8 percent.
The shares fell as much as 2.9 percent and traded down 2.3 percent to 89.96 euros at 12:59 p.m. in Frankfurt.
7-Series Drop
The planned new 7-Series is part of BMW's drive to refresh its model line. More of the company's sales came from lower-margin compact cars in the second quarter, driven by a nearly fivefold increase in 2-Series shipments and a 24 percent jump in Mini-brand sales. Deliveries of the 5-Series, 6-Series and 7-Series all declined, with the 7-Series posting the biggest, 27 percent drop.
Daimler AG's Mercedes, meanwhile, saw sales of its 7-Series competitor, the S-Class, rise 5 percent in the quarter. Mercedes deliveries rose 39 percent in China, the biggest market for both the S-Class and the 7-Series, in June.
The Chinese slowdown is "not just a BMW issue, but it's still going to be a wakeup call," said Stuart Pearson, a London-based analyst with Exane BNP Paribas.
The market is slowing more quickly than BMW expected, Krueger told reporters in a conference call on Tuesday.
Industrywide auto sales in China fell 3.2 percent last month, the first decline in more than two years. The country's auto market has been the key growth driver for luxury-car makers in recent years. Audi and BMW both reported Chinese sales declines for June.
Ebit Declines
BMW's second-quarter group Ebit fell 3 percent from a year earlier to 2.53 billion euros ($2.77 billion), matching analyst estimates compiled by Bloomberg. Revenue jumped 20 percent to 23.9 billion euros.
Krueger, 49, succeeded Norbert Reithofer as CEO in May. In addition to the Chinese slowdown, he's contending with potential new competitors, such as technology companies Apple Inc. and Google Inc., that are studying whether to enter the auto industry.
BMW is battling to maintain its lead in global luxury car sales, which it's held since overtaking Mercedes in 2005. Spending requirements for new technology such as self-driving cars and vehicles with electric engines like the i8 sports car are pushing the manufacturer and its rivals into cost-saving initiatives to maintain profitability levels.