Big-Game Trophies No Longer Welcome on U.S. Airlines After Cecil
Mary Schlangenstein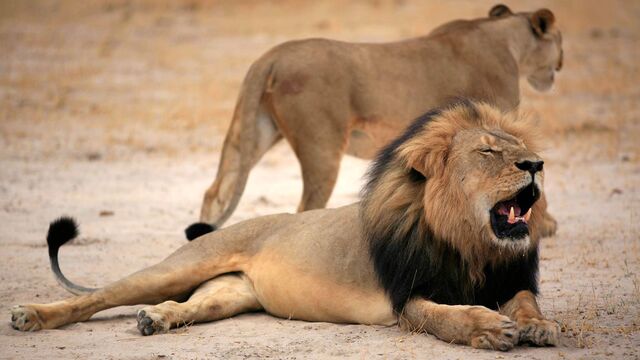 Big-game trophies will no longer be carried on the three biggest U.S. airlines, expanding the number of global carriers to adopt such bans amid growing anger over the killing of Cecil the lion in Zimbabwe.
American Airlines Group Inc. adopted a ban on buffalo, elephant, leopard, lion and rhinoceros trophies hours after Delta Air Lines Inc. and United Airlines did the same.
"Even though we do not serve Africa, it reinforces that we will not accept or ship these items if they do make their way to American Airlines via a connecting cargo shipment," Matt Miller, a spokesman for American, said Tuesday. The airline announced the policy in a Twitter post late Monday.
The carriers spotlighted the mundane logistics that follow a visiting hunter's bagging of African wildlife: getting the head, horns or hide back home. Airlines already faced animal-rights groups' pressure to reject such cargo even before last month's killing of 13-year-old Cecil, a star attraction for tourists at Zimbabwe's Hwange National Park.
None of the big U.S. carriers referred to Cecil, who allegedly was lured out of the Hwange park. Zimbabwe wildlife authorities have suspended the hunting of lions, leopards and elephants in some areas near the park.
Africa Routes
Delta is the biggest U.S. carrier to Africa, while United, a unit of United Continental Holdings Inc., serves only one destination on the continent -- Lagos, Nigeria.
British Airways, American's biggest global alliance partner, said Tuesday it doesn't transport hunting trophies of any kind.
Singapore Airlines Ltd., Emirates airline and South Korea's Asiana Airlines Inc. also have banned such cargo on their planes, the carriers said. Singapore Airlines said its policy has been in place since May.
South African Airways moved in April to halt the carriage of legally acquired hunting trophies of lions, elephants, rhinoceros and tigers, then ended its embargo in July once the airline concluded that it had safeguards to stop illegal shipments, the country's Department of Environmental Affairs said.
"Not everything that gets shot is Cecil," said Barry Parsons, chief strategy officer for South African Airways.
'Legitimate Export'
Big-game hunting "is legal. It's a legitimate export industry and it's a supportive industry for game lodges and the hunting industry," Parsons said Tuesday at a conference in Sydney. "It's not my bag but it's a big thing in South Africa."
Zimbabwe has requested the extradition of Walter Palmer, the Minnesota dentist who shot Cecil. Professional hunter Theo Bronkhorst, who assisted in stalking the animal, has appeared in court in the country.
The U.S. Fish and Wildlife Service said it's investigating the incident. Animal-rights groups have called for a ban on trophy hunting, and Palmer has received death threats through social media and has closed his dental practice, at least temporarily. Palmer told the Minneapolis Star Tribune newspaper in a statement that he thought the hunt was legal.
Before it's here, it's on the Bloomberg Terminal.
LEARN MORE