Where Would Jon Stewart Be Without Fox News?
With the first Republican debate happening the same night as his farewell episode, Jon Stewart is exiting The Daily Show during a singular moment for his sworn nemesis—and perfect foil.
By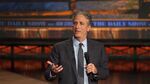 Late last week, comedian Wyatt Cenac, a writer and correspondent for The Daily Show With Jon Stewart for nearly five years, appeared on Marc Maron's WTF podcast. There, he claimed that he left the show because of an argument he had with host Jon Stewart.  It has been reported that the fight was because Stewart had been using a voice impersonating Republican presidential candidate Herman Cain, which Cenac felt was reminiscent of Kingfish, the notoriously racist character on Amos 'n' Andy. But that's not quite right.