Where Joe Biden Is Coming From
The vice president's emotion-laden impulses may lead him to challenge Hillary Clinton, no matter how stark the electoral realities are.
By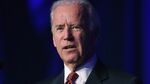 Three years ago, in mid-August 2012, I spent several days in close quarters with Joe Biden for a magazine profile I was writing. In an interview in his cabin aboard Air Force Two, I asked Biden about a topic much discussed back then, and even more so—to put it mildly—at this moment: the possibility that he might run for president in 2016.