Photographer: Matthew Lloyd/Bloomberg
The Libor Trial in 12 Quotes
Superheroes, Mars bars and Austin Powers: What the Libor trial told us about Thomas Hayes
by and
Former UBS and Citigroup trader Tom Hayes was found guilty of Libor rigging in a London court. 
Throughout the landmark nine-week trial the jury heard testimony and scrutinized e-mail traffic, Internet chat and transcriptions of phone calls. 
Evidence from Hayes as well as from others in the industry and from lawyers, offered an insight into the character of the man accused of one of the most serious financial crimes in recent years.  
Hayes shone a light on his own character - from childhood obsessions to a dedication to his work.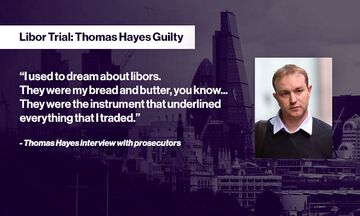 In trial testimony he revealed his personal habits:
"I used to have the same superheroes duvet cover I had when I was eight when I was 24. I didn't see the point in buying another duvet cover when I had one that was perfectly adequate." 
 In talks with the U.K.'s Serious Fraud Office in 2013 he portrayed the Libor rate as ripe for manipulation - and hinted at his perception of what he was doing.
"Not even Mother Teresa wouldn't manipulate Libor if she was setting it and trading it." 

"Did I think I was going to get a medal from the regulator for it? No. But equally I did not think I was Bernie Madoff."  
Transcribed phone calls showed how he discussed with other brokers the ease with which it was possible to move UBS's Libor submissions.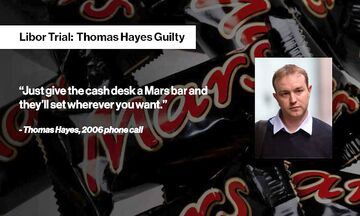 On his first day on the stand, Hayes told how he was motivated by money:
"I wanted every bit of money I could get because that's your performance metric, that's how you're judged," Hayes told jurors during his first day on the stand.
And he described for jurors how he was caricatured by the press after he was charged by the U.S. Department of Justice. 
"I was made out to be the Jesse James of Libor, the Bobby Dazzler of Libor."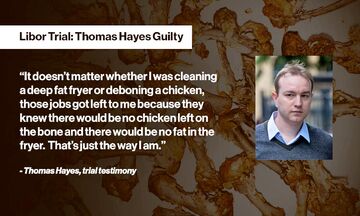 There was also evidence from others in the financial industry.
"It's not impossible as a thought experiment," British Bankers' Association Libor boss John Ewan told jurors, when asked whether he had any idea during the financial crisis that banks were rigging the benchmark.
Then there was David Nicholls:
"What's a cabal?" 
Nicholls, of Deutsche Bank, managed a group of traders fired for colluding to rig Libor. He made this remark in a phone call in 2008 with John Ewan.
"That's an interesting conspiracy theory but that doesn't happen. Banks do not collude to set a Libor rate."
Closing arguments in the trial saw rival lawyers attempt to leave the jury with a lasting impression of Thomas Hayes. Suffice to say, their opinions differed.
Prosecuting lawyer Mukul Chawla thought Hayes should take a critical look at his own behaviour.
"He [Hayes] holds a multitude of organizations and people responsible for his present predicament, but in blaming everyone else, what he does not do is to take any form of personal responsibility."
His opponent, lead defense lawyer Neil Hawes, tried to puncture the idea that his client was some kind of slick operator.
"More Austin Powers, isn't it, than James Bond?" 
Before it's here, it's on the Bloomberg Terminal.
LEARN MORE