Qatari Diar Venture Agrees to Sell $857 Million London Offices
Neil Callanan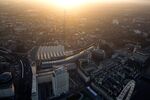 A venture between Qatari Diar Real Estate Investment Co. and Canary Wharf Group agreed to sell two office buildings in London's South Bank district to Almacantar SA for more than 550 million pounds ($857 million).
Almacantar, led by the former Land Securities Plc executive Mike Hussey, is buying the buildings near Waterloo railway station before their completion in 2018. One of them will be leased by a unit of Royal Dutch Shell Plc and occupiers will be sought for the other.
"The area around Waterloo Station has the potential to grow into one of the best mixed-use destinations in London," Hussey, who used to be in charge of Land Securities' London real estate business, said in the statement.
The deal is the largest ever in London's South Bank district, where rents have risen as a lack of space and higher rents forces some occupiers to move out of London's West End. Rents for the best office buildings in South Bank are about 57.50 pounds a square foot compared with 117.50 pounds in Mayfair and 85 pounds in Soho, according to broker Jones Lang LaSalle Inc.
Qatari Diar and Canary Wharf agreed to buy the land plot for 300 million pounds, according to a July 2011 statement. The Qatari Investment Authority and Brookfield Property Partners LP gained control of Canary Wharf Group earlier this year.