Obama's Clean Power Plan Seen Wiping Out High-Cost Coal
Mario Parker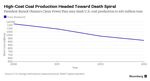 Coal producers strapped with high costs and debt are headed for extinction under President Barack Obama's Clean Power Plan.
They will be left to vie for 650 million tons of utility demand annually, compared with the more than 1 billion averaged during coal's halcyon days at the turn of the century, BB&T Capital Markets Inc. in Richmond, Virginia, said in a report Monday before the formal release of the plan.
Some were reeling even before the release of Obama's proposal, which calls for a 32 percent reduction in carbon emissions from 2005 levels, more than the 30 percent proposed a year ago. Alpha Natural Resources Inc. on Monday became the latest producer to seek bankruptcy protection.
"We think higher-cost producers, especially those with leverage, would be wiped out," Mark Levin, an analyst at BB&T, said in the report. "Lower-cost producers would also be impacted by less overall demand and higher fixed costs."
While Obama's plan probably will be hashed out in courts, the ambiguity it creates for utilities bodes poorly for coal, Levin said.
"This uncertainty has a bearing on how utilities plan their fuel needs for years into the future," Levin wrote. "That uncertainty can only lead to less, not more, coal consumption, even if the CPP is ultimately delayed or blocked."
Coal has seen its share of electricity generation fall to 36 percent from about 50 percent a decade ago, data from the Energy Information Administration show, largely due to competition from cheaper natural gas and to tougher environmental regulations.
Bankruptcy Filing
Last month, the New York Stock Exchange delisted Walter Energy Inc., which subsequently filed for bankruptcy, and Alpha Natural Resources Inc. because their shares were trading for too long below $1. Arch Coal Inc. has also received a warning from the NYSE that it could be delisted.
About 795 million tons of coal will be used to generate electricity this year, the lowest since 1991, EIA forecast in its July 7 Short-Term Energy Outlook.
In a court filing Monday, Alpha warned that other bankruptcies may follow, citing cheap gas, coal reclamation and miner retirement costs and the more stringent regulations.
"The U.S. coal industry as currently structured is unsustainable," Kevin Crutchfield, Alpha's Chief Executive Officer said in the bankruptcy filing.
Before it's here, it's on the Bloomberg Terminal.
LEARN MORE