Commodity Rout Spurs Worst Resource-Currency Meltdown in 7 Years
Lananh Nguyen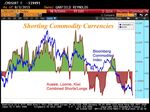 Commodity currencies are off to the worst start to a year since the financial crisis amid signs of a slowdown in China, the world's biggest consumer of raw materials.
The Canadian, Australian and New Zealand dollars plunged against their U.S. counterpart as Bloomberg's commodity index tumbled to a more than 13-year low. The currencies of commodity-exporting nations suffered after an official Chinese factory gauge slipped to the least in five months, dimming the demand outlook.
"In the Group-of-10 space, I continue to maintain short positions in all three: Australia, Canada and New Zealand," Alessio de Longis, a money manager in the Global Multi-Asset Group at OppenheimerFunds Inc., said from New York. "Even if commodities were to stabilize, I think this weakness will feed into additional policy easing in these countries." A short position is a bet that an asset will decline in value.
Canada's currency depreciated 0.5 percent to C$1.3156 against the dollar as of 5 p.m. New York time, the weakest since August 2004. The Aussie and kiwi were both trading near six-year lows.
"Commodity currencies remain under some degree of stress," said Jeremy Stretch, a foreign-exchange strategist at Canadian Imperial Bank of Commerce in London. "Until there is a floor in commodity prices, which doesn't look likely, in the shorter term the downtrend is going to continue."
Bid Outlook
Stretch said that with the dollar remaining "relatively well-bid," and central banks in Canada, Australia and New Zealand looking to further loosen monetary policy, the declines in those currencies have "further to go."
A private manufacturing gauge for China slipped to a two-year low, after the official factory index was weaker than economists forecast amid a drop in new orders and jobs. The data add to threats that include a rout in Chinese stocks and a fall in car sales that endanger the government's goal of about 7 percent growth this year.
The Bloomberg Commodity Index has plunged about 12 percent since the end of June. Crude declined 3.7 percent to $45.36 a barrel in New York after capping its worst month since 2008 in July amid concern about a global supply glut.
"The main driver of price action is the weakness in commodity prices," Daniel Katzive, head of foreign-exchange strategy for North America at BNP Paribas SA in New York, said by phone.