business
Kerry Wins Support for Iran Agreement From Gulf Arab Allies
Terry Atlas and Mohammed Aly Sergie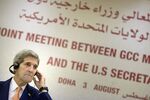 Gulf Arab monarchies publicly backed Iran's nuclear accord with global powers in a move that could bolster the Obama administration's efforts to secure congressional approval for the agreement.
Secretary of State John Kerry, visiting Qatar, said Monday that foreign ministers from the Gulf Cooperation Council agreed that the accord curbing Iran's nuclear program in return for easing sanctions will contribute to regional security.
"This was the best option amongst other options in order to try to come up with a solution for the nuclear weapons of Iran though dialogue," Qatari Foreign Minister Khalid Al-Attiyah said at a joint news conference with Kerry in Doha. "We are sure that all the efforts that have been exerted make this region very secure, very stable."
The nuclear pact reached in Vienna has rattled Gulf Sunni countries worried about Shiite Iran's nuclear and regional ambitions. They fear Iran will use the agreement to deepen its involvement in Arab affairs as sanctions are lifted and its economy and revenue expand.
The question for the Gulf states is what the U.S. will do about "Iranian encroachment" in Syria, Yemen, Iraq and Lebanon, Muath Al Wari, a former analyst on the United Arab Emirates' Supreme National Security Council who's now at the Center for American Progress in Washington, said last week.
Iranian Foreign Minister Mohammad Javad Zarif on Monday called for regional dialogue among all Muslim countries to resolve conflicts in Yemen and Syria. Writing in Lebanon's Assafir newspaper, Zarif said his planned visits to Kuwait, Qatar and Iraq were evidence of his country's commitment to establishing good ties with its neighbors.
Good News
The statement in Doha was good news for Kerry, as the Obama administration fights opposition to the deal from Republicans, some Democrats, elements of the American Jewish and evangelical Christian communities and Israeli Prime Minister Benjamin Netanyahu. Israel is the only country in the region that has nuclear weapons, though it doesn't acknowledge its arsenal.
It may help Kerry and President Barack Obama counter one argument advanced by critics -- that the deal must be bad because it's opposed by both Arab states and Israel, which agree on little else.
Netanyahu, Obama
As Senate committees in Washington continue to hold hearings on the accord this week, Netanyahu has scheduled a webcast on Tuesday to address major American Jewish organizations on his opposition. Obama plans a speech supporting the agreement on Wednesday at American University in Washington.
Kerry said Monday that he assured the Gulf Cooperation Council ministers that the U.S. will work with allies "to make sure we do the most possible" to prevent actions by Iran or others that threaten to destabilize them.
He said the U.S. will work with Arab allies to build their security capabilities, including developing an integrated missile defense system, increased intelligence-sharing and expanded training, maritime interdiction and security.
The U.S. and GCC are establishing an "action agenda, a specific set of operational steps that can be taken together," Kerry said.
Saudi Arabia and Iran have been on opposite sides of the conflict in Syria. The Saudi kingdom supports the mainly Sunni rebels trying to oust Syrian President Bashar al-Assad, who's backed by Iran and Russia.
Lobbying Russia
Kerry used his visit to step up efforts to draw Russia away from its support for the Assad regime. He held a three-way meeting Monday with Saudi Foreign Minister Adel al-Jubeir and Russian Foreign Minister Sergei Lavrov.
In another regional conflict, Saudi Arabia has been bombing Yemen since March in a bid to reinstate President Abdurabuh Mansur Hadi, whose administration was ousted by Shiite Houthi rebels with links to Iran.
The Gulf countries stances toward Iran are varied, with the Saudis most hostile while Qatar and Oman have more active engagement. Oman facilitated the secret U.S.-Iran talks that led to the nuclear negotiations and has played a behind-the-scenes role in the diplomacy.
The Gulf nations' conventional arsenals and military spending dwarf Iran's, according to analyst Anthony Cordesman of the Center for Strategic and International Studies in Washington. Along with U.S. forces, the Arab Gulf states "have a massive lead over Iran in virtually every aspect of conventional arms, except total military manpower," Cordesman said in his latest report.
Yet much of Iran's challenge to its neighbors comes from asymmetric threats that don't require massive investments, such as cyberattacks, fomenting unrest among discontented Arab Shiite communities and support for terrorism and proxy fighters such as Hezbollah, which is considered a terrorist group by the U.S., European Union and Israel.
Before it's here, it's on the Bloomberg Terminal.
LEARN MORE