FIFA? Women, Fashion and Haircuts More Important, Ronaldo Says
Tariq Panja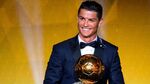 Fashion, women, music and haircuts are more important to soccer players than the crisis engulfing the sport's global governing body, according to Real Madrid forward Cristiano Ronaldo.
The Portuguese player, who won FIFA's player of the year three times, cut short an interview by U.S.-based columnist and talk show host Andres Oppenheimer after being asked about the scandal at FIFA.
"It doesn't bother me at all," Ronaldo said, sporting a Nike T-shirt, diamond earrings and oversized gold and black headphones he was promoting around his neck.
While the problems at FIFA, which include the arrests of several senior officials on corruption charges and a criminal probe into how Russia and Qatar ended up World Cup hosts, have drawn comments from sponsors including Coca-Cola Co. and Visa Inc., fan groups and administrators, most of the game's multimillionaire players have remained silent.
"We talk this zero about this," said Ronaldo, who cost Real a then-record 80 million pounds ($125 million) when he joined from Manchester United in 2009. Instead, the players discuss "music, women, fashion, shoes, bags, jewelry, haircuts."
Ronaldo's management company Gestifute didn't reply to a request for comment.
Oppenheimer, a Pulitzer prize-winning journalist with a column in the Miami Herald, was interviewing Ronaldo for his Spanish-language television show Oppenheimer Presenta.
Ronaldo cut short the interview broadcast on July 29 after less than two minutes when he was asked about his views on the choice of Qatar to host the 2022 World Cup. The event won't be played during June and July as usual because of extreme heat.
Ronaldo, who had been speaking in Spanish, switched to English and launched an expletive-filled tirade saying that he didn't care about FIFA or that the World Cup was being played in Qatar. "FIFA? I don't care about FIFA."