Cruise's Mission Possible Is a $56 Million Movie Opening
The series' second-biggest opening ever shows Tom Cruise can still pack a theater, even for a franchise that's two decades old.
By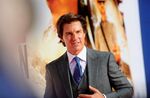 In the first few minutes of the fifth Mission: Impossible, Tom Cruise defies death and belief by hanging onto an airborne Airbus A400 — wearing a suit, no less.
The movie itself took off in its opening weekend, capturing $56 million in U.S. and Canadian ticket sales. That gives Mission: Impossible — Rogue Nation the second-biggest debut ever in the Paramount Pictures series, reversing a downward trend since 2000, when Mission: Impossible II delivered $57.8 million.

Moviegoers haven't given up on Cruise, despite ongoing controversy surrounding his involvement with Scientology — the critical HBO documentary Going Clear, which aired earlier this year, is just the latest example. His box-office appeal has recovered from incidents like the Oprah couch-jumping episode of 2005, and the debate with Matt Lauer on Today over psychiatry and antidepressants that same year. 
One reason he's hung on has been his performances, and the dedication apparent when an A-level star like Cruise pulls his own stunts. He scaled the world's tallest building in 2011's Mission: Impossible — Ghost Protocol, and hangs off the plane this time. It's paid off with the best reviews yet for the series' last two installments. Both got a 93-percent positive rating on RottenTomatoes.com.