Citigroup Said Facing Student-Loan Servicing Probe by CFPB
Dakin Campbell and Janet Lorin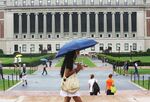 Citigroup Inc., the third-largest U.S. bank by assets, is being investigated by the Consumer Financial Protection Bureau over its student-loan servicing practices, a person with direct knowledge of the matter said.
Citigroup is cooperating with the probe, the New York-based firm said Monday in a filing that didn't disclose which regulator was involved. That agency is the CFPB, said the person, who asked not to be identified discussing an ongoing investigation.
The inquiry may result in penalties or having the bank offer restitution to customers, and echoes an enforcement action against at least one other institution, according to the filing, which didn't name the other firm. Spokesmen for Citigroup and the CFPB declined to comment.
Discover Financial Services disclosed a similar probe by the CFPB in February 2014 and last month agreed to refund $16 million to consumers and pay a $2.5 million penalty. The agency found the Riverwoods, Illinois-based firm overstated minimum amounts due on billing statements and denied consumers information needed to obtain income-tax benefits. Discover also engaged in illegal debt collection tactics, including calling consumers early in the morning and late at night, the CFPB said.
Exits Business
Citigroup exited most of its student-loan business in September 2010 when it agreed to sell its majority stake in Student Loan Corp. to Discover, unloading $4.2 billion of private loans and $3.4 billion of securitized loans. SLC separately agreed to sell $28 billion of securitized federal student loans and related assets to SLM Corp., known as Sallie Mae. At the time, the bank said it would keep $8.7 billion of federal and private loans and look to sell those over time.
Student-loan servicers process monthly payments and act as the main point of contact with borrowers, similar to mortgage servicers. The CFPB has cited collection of student-loan payments as a point of confusion that can lead to repayment challenges and hurdles for distressed borrowers. People having trouble meeting payments can contact the servicer to ask for deferments or forbearance, or request a repayment plan based on income. U.S. student-loan debt currently totals more than $1.36 trillion, the vast majority of which is government-backed.
The CFPB, established four years ago by the Dodd-Frank Act to increase oversight of consumer financial products, in May began a public inquiry into servicing practices "that can make paying back loans a stressful or harmful process for borrowers." The agency has received more than 30,000 comments.