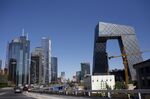 Sometimes, Chinese policy making seems to tug the economy in different directions.
Take the past week. Premier Li Keqiang paved the way for fresh spending to lay drainpipes across the country's cities, a move that will help ensure the economy hits the annual expansion target of about 7 percent. That kind of fiscal spending is exactly the type of stimulatory action that analysts expect from the government as growth slows. 
On the other hand, authorities in Beijing are also willing to sacrifice growth when it comes to impressing visitors. When the Chinese government welcomes global visitors to Beijing, it doesn't just roll out the red carpet; it also brings on blue skies.
It does this by limiting vehicle use and temporarily shutting down surrounding steel mills and coal plants to clear the dense smog that blankets the city most of the time. For example, late last year heads of state from across the Asia Pacific region visited Beijing for the annual Asia Pacific Economic Cooperation summit. The resulting skies became known as "APEC Blue," only for the smog to return at the summit's end.
While the smog clearing tactics may have worked, the economic cost is starting to add up. Beijing's hosting of the upcoming World Athletics Championships in August and a World War II Memorial in early September have the potential to hurt manufacturing and construction, Goldman Sachs Inc. has warned. They cite past events including the Summer Olympics in August 2008, the Youth Olympics in August last year and APEC, which caused factories to be shuttered.

The likely disruption in production comes as the world's second largest economy grows at its slowest in 25 years. The central bank has cut interest rates four times since November and eased banks' reserve ratio requirements, while the central government has taken steps to boost local government spending on infrastructure to spur growth.
Those policy moves have been slow to gain traction. Exports are sluggish and manufacturers remain under pressure. Fresh factory closures will further disrupt a possible recovery this quarter, with steel production hit particularly hard in places like Hebei province, China's biggest steel producer and accounting for nearly a quarter of output. It surrounds Beijing and its steel plants are the major source of the region's pollution.

Cleaner skies are certainly desirable. A 2015 report by the Rand Corporation estimates the cost of air pollution, driven by the impact on health and loss of labor productivity, running at 6.5 percent of China's gross domestic product each year between 2000 and 2010, and rising with more urbanization.  The analysis suggests cleaning up the skies could reap annual benefits of $535 billion in 2012 terms.
While China's government has vowed to clean up the air through a more efficient "new economy" driven by services, innovation and consumption, the transition has been slow to take effect. Steel mills, as polluting as they are, still create millions of jobs.