African Union, U.S. Urge Calm in Burundi After Assassination
Desire Nimubona and Felix Njini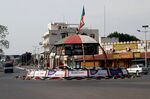 The assassination of an adviser to Burundian President Pierre Nkurunziza sparked condemnation from the U.S. and appeals for calm from the African Union.
General Adolphe Nshimirimana, the former head of intelligence in Burundi, died Sunday when a group of unidentified men attacked him in the capital, Bujumbura. The incident will probably further destabilize the East African nation, African Union Commission Chairwoman Nkosazana Dlamini-Zuma said in a statement posted on the organization's website.
Dlamini-Zuma called on Burundians to "exercise utmost restraint, not be provoked and to refrain from any acts of retaliation that would only further escalate and complicate the already bad situation."
At least 77 people have died and 170,000 fled their homes in Burundi since April in unrest sparked by Nkurunziza's decision to extend his 10 years in power. Opponents said his bid to seek re-election violated a two-term limit set out in peace accords that ended a 12-year civil war in 2005. Nkurunziza ignored the protests and secured a third term in a July 21 vote the United Nations said wasn't free or fair.
The unrest in Burundi has the potential to destabilize the Great Lakes region that includes the Democratic Republic of Congo, Africa's top copper and tin producer, and Rwanda, which had a genocide in 1994. Civil wars in the early 1990s in Burundi and Rwanda set the stage for conflict in neighboring Congo, the deadliest war in Africa's modern history.
Arrest Deadline
Nkurunziza on Monday set a one-week deadline for the authorities to arrest those responsible for the killing of Nshimirimana.
"Security forces are required to be professional and arrest those murderers," he said in a speech broadcast on state radio in Bujumbura.
The U.S. State Department condemned the killing and called on "all sides to renounce violence and to redouble their efforts to engage in a transparent, inclusive and comprehensive political dialogue," according to a statement.
The assassination came as Burundian political parties and civil society groups opposed to Nkurunziza's third term appointed a new leader.
Former rebel leader Leonard Nyangoma was chosen by opposition delegates during a two-day meeting in Ethiopia's capital, Addis Ababa, according to Leonce Ngendakumana, who attended the event. Nyangoma was chosen over Gervais Rufyikiri, Burundi's former second vice president, who fled the country in late June, Ngendakumana said Monday in an interview in Bujumbura.
The president's opponents are using political and diplomatic means to protest his continuing rule, while if "Nkurunziza continues to use military solutions to political questions then the opposition will see how to use force, too," Ngendakumana said.