A Towering Bond Trade Has Been Quietly Falling Apart
Will the brisk business in CCC-rated debt recover or collapse?
By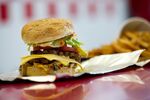 If credit ratings were food, AAA-rated bonds would be quinoa, healthy and entirely unsatisfying. BBB-rated debt might be roast potatoes, not so bad for you and flavorful. And CCC-rated debt would be a double cheeseburger with bacon, unhealthy but oh so very tasty.