pursuits
With Growth Target at Risk, China Prepares for New Spending
Bloomberg News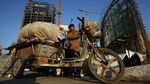 China's leadership is preparing fresh fiscal spending to ensure that signs of economic weakening don't put their 2015 growth target out of reach, a danger that was underscored by a deterioration in manufacturing in July.
Ahead of the top leadership's annual gathering at the Beidaihe seaside resort east of Beijing, the Communist Party's Politburo pledged last week to make "pre-emptive" policy adjustments in the second half. Premier Li Keqiang highlighted one area targeted for spending will be a "severely outdated" underground pipe system in the nation's expanding megacities.
Factories could use the work that such construction projects will bring, with a private manufacturing gauge released Monday falling to a two-year low. An official factory index Saturday slipped to a five-month low in July amid a drop in new orders and jobs, adding to threats that include a near-$4 trillion rout in Chinese stocks and a fall in car sales that endanger Li's goal of about 7 percent growth this year.
"Fiscal policies will be the key to growth stabilization measures in the second half," said Zhu Qibing, a macroeconomic analyst at China Minzu Securities Co. in Beijing. "The government's recent signals and policy direction clearly show that a new round of fiscal stimulus is coming," he said.
To finance the spending, China has enlarged a debt swap program for local authorities that's cutting their borrowing costs, and is expanding the lending capacity at so-called policy banks -- government-run lenders that implement public-policy objectives. The People's Bank of China may also free up more commercial-bank reserves to be used for lending, economists said.
Dual Measures
"We expect additional infrastructure spending as well as a RRR cut," Dariusz Kowalczyk, a strategist at Credit Agricole CIB, said before Saturday's official purchasing manager index release. A PMI from Caixin Media and Markit Economics released Monday fell to 47.8, worse than a preliminary estimate.
Threats to growth mean Li and President Xi Jinping have had to suspend for now an initiative to rein in leverage in the world's second-largest economy that soared under the previous leadership team of Hu Jintao and Wen Jiabao. While a booming stock market had offered one channel for reducing corporate leverage, that got constricted with the equities slide.
The Shanghai Composite Index of stocks fell 10 percent last week, arresting three weeks of gains. The China Automobile Dealers Association Friday warned that a continuing share decline could contribute to the country seeing the first annual drop in vehicle sales in more than 17 years.
Airports, Pipes
With the building industry hurt by an overhang of properties, infrastructure spending will be key to driving growth. Premier Li said last week that expediting the construction of a modern underground pipe system in China's big cities will be a new growth driver, according to the People's Daily website. China will also support construction of airports in central and western regions, the State Council said.
Urbanization has put strains on the utility systems in China's big cities. Flooding has sometimes proves deadly, as highlighted by the loss of 79 people following a July 2012 rainstorm. Initial underreporting of the death toll on that occasion also spurred public criticism in the Communist nation.
"This move is intended to support activity growth," Goldman Sachs Group Inc. analysts including Yu Song wrote in a July 30 note, referring to the plans to modernize urban underground pipe systems. "Without further policy support, growth is at risk of falling significantly below the official target."
Addressing Usefulness
Spending in areas of underinvestment can boost short-term growth and help ease concern over the usefulness of government-led outlays, the Goldman analysts said. To fund these efforts, authorities may issue more local government bonds, prod agencies to utilize idle fiscal deposits, and keep monetary conditions loose, they said.
Central bank Governor Zhou Xiaochuan has already this year lowered the required reserve ratio twice, with an additional move targeted to certain banks, and cut benchmark interest rates four times since the start of November.
Officials are also acting to boost lending. The State Council said last week China will encourage banks to increase loan support for the tourism sector.
More directly, authorities are expanding lending capacity at the country's policy banks. The central bank has put $48 billion into China Development Bank Corp., people familiar with the matter said last month. Export-Import Bank of China got $45 billion, and 100 billion yuan ($16 billion) from the Ministry of Finance went to the Agricultural Development Bank of China, Caixin magazine reported.
Weak overseas and local demand damped manufacturing in July, the national statistics bureau said Aug. 1.
"We have seen no sign of recovery in the manufacturing sector," said Zhu Haibin, chief China economist at JPMorgan Chase & Co. in Hong Kong. "We may see manufacturing bottom in the third quarter as the government continues and steps up measures to stabilize growth."
— With assistance by Xiaoqing Pi
Before it's here, it's on the Bloomberg Terminal.
LEARN MORE