U.K. Said to Consider Selling RBS Shares as Early as Monday
Richard Partington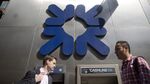 Royal Bank of Scotland Group Plc fell after reports said the U.K. government may start selling some of its stake as early as Monday.
U.K. Financial Investments Ltd., which manages the taxpayer's 78 percent stake in the Edinburgh-based lender, could appoint investment banks to handle the sale on Monday afternoon or another day this week, a person with knowledge of the matter said on Sunday. They could alternatively wait until September, when share trading picks up after a summer lull, said the person, who asked not to be identified because the matter is private.
RBS reported an unexpected second-quarter profit on July 30, paving the way for the government to sell its stake. Chancellor George Osborne has said he wants to raise 2 billion pounds ($3.1 billion) from selling shares to institutional investors this year, even though it may cause a loss for taxpayers.
"The shares are down on talk of a placing and they'll remain there until something is done," said Joseph Dickerson, an analyst at Jefferies International Ltd. in London with a buy rating on the stock. "A sale will come between now and mid-September."
The shares fell 1.5 percent to 337 pence at 8:35 a.m. in London trading, below the 407 pence at which the government says it would break even on its 45.5 billion-pound bailout. RBS has slumped about 15 percent this year, the worst performance among major U.K. banks.
September is still the most likely window for UKFI to start selling shares, although no decision has yet been made, the person said. The Sunday Times reported that an RBS share sale could begin as soon as Monday.