Strange Brew: Endorsements and Paychecks on the Presidential Campaign Trail
Several campaigns and super PACs have picked up sitting lawmakers as staffers.
By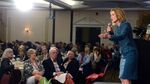 In June, when New Hampshire state Representative Gene Chandler publicly led a group of his colleagues in endorsing Carly Fiorina, he called the Republican presidential candidate "the total package" and praised her ideas on budgeting and foreign policy experience. What the deputy speaker of the Granite State's House did not say: He was already on the payroll of her shadow campaign.
On June 5, CARLY for America, a super-PAC supporting  Fiorina's bid, paid Chandler $853.85 for his role as a field staffer. On June 16, it paid Chandler an additional $1,353.85. Both payments were disclosed for the first time Friday in a campaign finance report the super-PAC made Friday with Federal Election Commission. The first payment came three days before CARLY for America announced Chandler's endorsement, an important validator for a rookie politician from a veteran Republican in the state that holds the nation's first presidential primary.
Both payments, which were marked as being for payroll, reveal the sometimes complicated relationships between elected officials, campaigns, super-PACs, and staffers in presidential years—one that only gets thornier as more campaign efforts vie for staff.
"I'm certainly not alone," Chandler told Bloomberg when asked about the arrangement.
A leadership PAC supporting Rand Paul employs New Hampshire state Representative Tammy Simmons, for instance. Granite state Representative Josh Whitehouse was a key early hire as Donald Trump's coalitions director. Ohio Governor John Kasich tapped New Hampshire state Representative Harold Parker as a campaign field director.
New Hampshire lawmakers have good reason to moonlight: Compensation for lawmakers in the Granite State is one of the lowest, if not the lowest, in the nation: $100 a year.
Chandler said he joined the Fiorina-affiliated super-PAC as a "North Country director," on May 18, a week after he endorsed Fiorina privately in a letter to colleagues. 
"He was paid for field staff work" and works daily, a spokeswoman for the Fiorina-affiliated super-PAC wrote in an e-mail. She said Chandler, who is also a real estate agent, is one of its seven New Hampshire field staffers who "meet with voters, attend staff meetings, and work hard to get more support for Carly Fiorina."
While Chandler believes there may be a few more legislators working on campaigns in 2016 because of the unusually large number of candidates, the phenomenon isn't new. CARLY for America New Hampshire State Director Kerry Marshin said in an e-mailed statement: "His experience doing similar work for Representative Bass, Scott Brown, and John McCain provides our team with his experience and expertise."
Chandler said that the payments were not for his endorsement, which he said he had offered Fiorina before she even announced her candidacy on May 5.
A letter supplied by the PAC dated May 11 and signed by Chandler and four other state representatives appears to show them already having endorsed Fiorina and urging colleagues in the House to join the group that eventually totaled 13 on June 8.
Endorsers who already hold national elected office often join campaign efforts in honorary capacities such as co-chairs, but state-level lawmakers in some of the key early presidential states also take paid position.
Competition for them and for endorsements can be fierce. Former Iowa state Senator Kent Sorenson pleaded guilty in 2014 to charges stemming from lying about being paid for endorsements. Representative Michele Bachmann's presidential campaign had paid Sorenson approximately $7,000 for endorsements in 2012, according to media reports, but he subsequently switched to Representative Ron Paul's campaign after it paid him $73,000.
A New Hampshire legislature ethics guide does not mention campaign work by sitting lawmakers.
Fiorina's super-PAC—which renamed itself after the acronym for  "Conservative, Authentic, Responsive Leadership for You" after finding itself in violation of an FEC rule banning super-PACs from using candidate names—has taken the lead in securing endorsements, according to National Journal, making it one of several groups outside of the official 2016 presidential campaigns that have taken on core campaign functions in the post-Citizens United era.