Strange Brew: Endorsements and Paychecks on the Presidential Campaign Trail
Several campaigns and super PACs have picked up sitting lawmakers as staffers.
By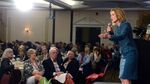 In June, when New Hampshire state Representative Gene Chandler publicly led a group of his colleagues in endorsing Carly Fiorina, he called the Republican presidential candidate "the total package" and praised her ideas on budgeting and foreign policy experience. What the deputy speaker of the Granite State's House did not say: He was already on the payroll of her shadow campaign.